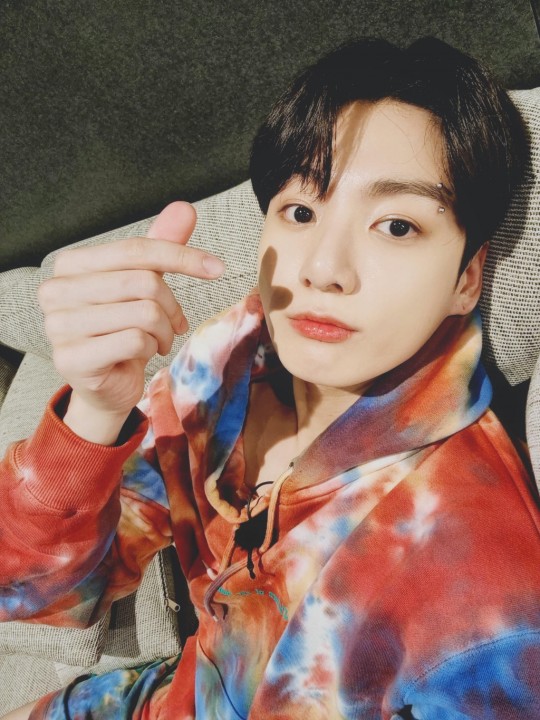 BTS Jungkook communicated with his fans the day before his birthday. He presented a lovely selfie, but soon after, it topped 'Twitter's real-time trend.
At around 10:43 am today, Jungkook visited the fan community platform Weverse. He posted, "How are you doing, ARMYs?! It's my birthday soon..! If there's anything you want to say to me, please leave it here! (like song lyrics)," along with his selfie.
In the selfie, he was wearing a colorful hoodie while posing with fluttering cute finger hearts, looking at the front. So, it makes the fans' hearts flutter.
BTS Jungkook showed off his solid physical features, which dazzles like the sunlight. He is boasting a fresh and lovely handsome look.
About 10 minutes after he visited Weverse, 'JUNGKOOK' ranked first in the real-time trend of Twitter worldwide. Then, within 30 minutes, the number of tweets exceeded 1 million.
Also, around 11 am, 'Song Lyrics,' 'Our Jungkook,' 'jungkook,' and 'Jung Kookie's Birthday' ranked 1st, 3rd, 18th, and 27th in Korea's real-time trend. Also, 'JUNGKOOK' ranked in the US, UK, Singapore, Canada, and Twipple Japan. In short, it is trending all over the world.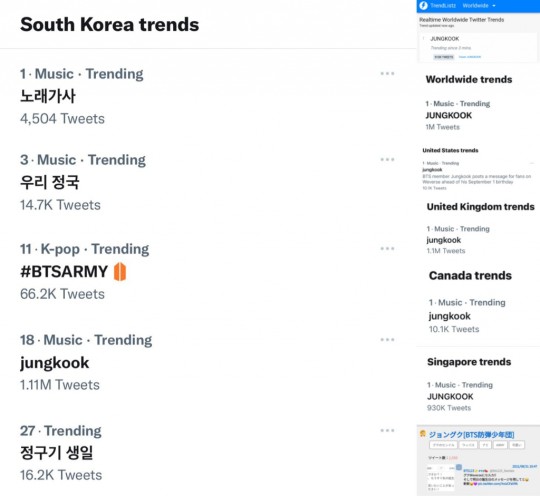 Fans are leaving comments, such as:
"Isn't there any lyrics to a song that is full of compliments? Now, let Jungkookie go to praise prison and give him a lot of healing therapy."
"I missed you so much. Song lyrics? I only remember Jungkook. I love you."
"What you want to say is like the lyrics of a song, A precious person who asks me to leave a purple ♥."
"This sweet man who gives a selfie to his fans before his birthday as a birthday present, our Jungkookie."
"What the hell is Jungkook for? Energy is springing up as soon as today."
"Everyone pretends not to know and writes the lyrics so that Jungkong will sing."
"As soon as you posted a Weverse selfie, It took the top spot in the world trend, lol."
Meanwhile, BTS Jungkook showed his affection to fans by posting on Weverse at 11:16 am, "I keep reading your comments now, and these are giving me comfort ♡."
Read More About: BTS Wins UK MTV 'Hottest Superstar' For 3 Years In A Row
BTS
,
BTS Army
,
bts Jungkook
,
bts Jungkook 2021
,
bts Jungkook birthday
,
bts Jungkook birthdayKpopnews
,
bts Jungkook wallpaper
,
BTS News
,
BTS songs
,
BTS today
,
bts trending
,
BTS UPDATES
,
BTS_JUNGKOOK
,
BTSTREND
,
Group BTS
,
JUNGKOOK
,
jungkook bts
,
jungkook euphoria
,
jungkook kpop
,
jungkook of BTS
,
jungkook_bts
,
KPOP
,
Kpop artist
,
Kpop artists
,
KPOP BTS
,
Kpop news
,
Kpop trend
,
Kpop trending
,
KPop trending news
,
Kpop trending now
,
kpop trending update
,
Kpop_BTS
,
KPOP2021
,
KPOPIDA
,
KPOPNEWS
,
Trending
,
trending 2021
,
trending kpop
,
Trending Kpop news
,
trending kpop update
,
trending news
,
trending update kpop