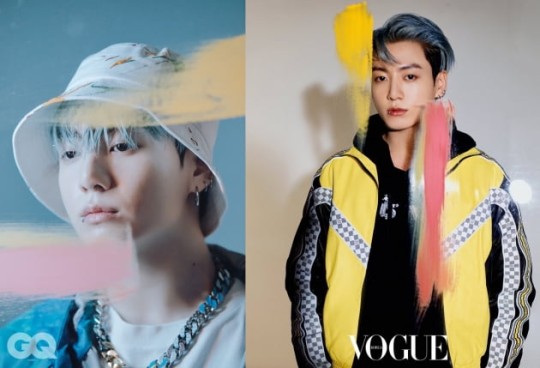 BTS Jungkook captured the fans' hearts with his explosive male deity and pictorial genius aspect.
Recently, 'GQ KOREA' and 'VOGUE KOREA' released behind-the-scenes cuts and special cuts for pictorials of BTS that decorated the January 2022 magazine through social media.
Among them, BTS member Jungkook exuded an irreplaceable aura. He made B-cuts into A-cuts and showed his fantastic top model force, capturing viewers' attention.
Jungkook showed off his excellent directing skills with unique sensibilities such as unique poses, sensual gaze, and detailed expressions. He is boasting his pictorial genius aspect!

In addition, Jungkook impressed viewers with his incomparable presence, overwhelming mood, and unparalleled fashion digestibility. So, he gained the attention of fans.
Jungkook made women's hearts flutter by showing sexiness with a strong physical built that stands out from the mature and deadly masculine beauty to the refreshing chic and faint boyish beauty. His infinite charm goes back and forth freely.
Also, BTS Jungkook showed off a living, breathing statue-like visual with a sharp jawline and artistic luxury features.
Fans who saw this commented, "Jungkook itself is heaven ♥ ecstasy," "Jungkook magic ♥," "No," "Visible to build an unmatchable aura!! Charm!!" "Is it right behind the scenes? It's a great face ㅜㅜ It's an actor's face," "Look at that absorbing gaze ㅜㅜ There's no such thing as a black hole," "Jungkook, who can express various fashion, is the owner of an unbounded charm," "It's a fantastic pictorial genius," and so on.
Meanwhile, BTS Jungkook's GQ exclusive cover magazine boasted explosive popularity as it sells out the first among the members on five major platforms, including 'Yes24,' 'Aladin,' 'Kyobo Bookstore,' 'Gmarket,' and 'KTown4U.'
BTS Jungkook shows his strong box office power, selling out all his exclusive magazines.
Read More About: BTS Jungkook's Fans Continue Spreading Good Influence Through Donations
agust d
,
best Kpop girl group
,
best kpop news site
,
best kpopstar
,
breaking news kpop
,
BT21
,
BTS
,
BTS Army
,
BTS BILLBOARD
,
bts butter
,
BTS fancam
,
BTS I'll Be Missing You
,
BTS J-Hope
,
bts jimin
,
bts Jungkook
,
BTS member
,
bts member Jimin
,
BTS member V
,
BTS Members
,
BTS News
,
BTS recent news
,
BTS routine
,
BTS solo songs
,
bts suga
,
BTS trending news
,
BTS UPDATES
,
BTS V
,
daily kpop news
,
Fandom
,
Filter
,
J-hope
,
JIMIN
,
Jin
,
JUNGKOOK
,
Korean celeb news
,
Korean singer
,
Korean singer songwriter
,
KPOP
,
Kpop album
,
Kpop beauty routine
,
Kpop boy group
,
KPOP BTS
,
kpop celebrity news
,
Kpop chart and news
,
Kpop colllaboration
,
KPOP comeback
,
Kpop current news
,
kpop daily news
,
Kpop fashion
,
Kpop girls group
,
Kpop idols
,
Kpop issues
,
Kpop latest news
,
Kpop music chart
,
Kpop news
,
Kpop news articles
,
Kpop news sites
,
kpop news update
,
Kpop recent news
,
Kpop skin care routine
,
Kpop skincare routine
,
KPop trending news
,
KPOPNEWS
,
permission to dance
,
RM
,
Run BTS
,
South Korean singer songwriter
,
SUGA
,
TAEHYUNG KIM
,
the best kpop girl group
,
the best kpop girl group of 2021
,
the best kpop group of 2021
,
the top kpop group
,
top kpop boy group
,
top kpop girl group
,
V
,
weverse magazine