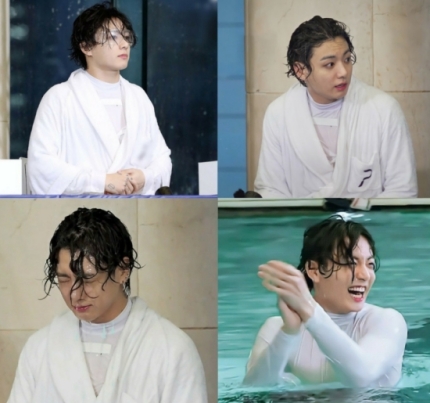 BTS's Jungkook showed off his handsome sculpture like appearance in 'Run BTS'.
The 132nd episode of BTS' own entertainment show 'Run BTS' will be aired on the 9th of March. The episode has the theme of '77 minutes discussion' following last week's episode.
This means that the debater or moderator gets a water bomb if they say or take the prohibited words and actions set for each topic of discussion.
In particular, all water bombs will strike when someone performs prohibited actions set by the production crew per round.
Viewers will be gazing at Jungkook's drenched hairstyle and physical features that exude a sexy masculine beauty.
BTS Jungkook added fun with his witty talk and sensational appearance. He also showed his chemistry with other members. Jungkook presented endless water bombs to the members with a unique remnant and showed a special sense of entertainment that gave a big smile.
After the 5th round, the topic of 'Eat' vs.'Do not eat' kelp in ramen began. Jungkook said, "What is it?" He touched the glasses, expressing curiosity about the prohibited words and actions.
A water bomb exploded again, Jungkook kept touching his glasses to wipe off the water. At the third water bomb, Jungkook burst into meaningful laughter.
As if recognizing the prohibited behavior, Jungkook touched his glasses once again.
This makes the members confused without knowing Jungkook's situation during the hot discussion. Then, the water bombs are continuously hitting Jungkook.
Accordingly, RM said, "Don't touch your face." J-Hope said, "I sealed my hand," but the water bomb struck the members' faces without fail.
The situation was fun, BTS Jungkook burst into laughter, and the water bomb prank was repeated nine times until the end of the 5th round discussion.
Until then, the members had to be hit by an infinite water bomb without noticing the banned action and Jungkook's joke.
Read more:
Jungkook captured the heart of fans
BTS Jimin In A Cute And Naughty Moment
ambassador bts
,
Army
,
army bts
,
BTS
,
bts active
,
BTS Army
,
bts jimin
,
bts jimin 2021
,
bts jimin birthday
,
bts jimin cute
,
bts jimin height
,
bts jimin tattoo
,
bts jimin wallpaper
,
bts jin
,
bts Jungkook
,
bts Jungkook 2021
,
bts jungkook abs
,
bts Jungkook height
,
bts jungkook long hair
,
bts Jungkook tattoo
,
bts Jungkook wallpaper
,
bts kpop
,
bts movement
,
bts rm
,
bts tv program
,
BTS V
,
jimin bts
,
jin bts
,
KPOP BTS
,
kpopstar bts
,
park jimin bts
,
park Jungkook bts
,
rm bts
,
v bts