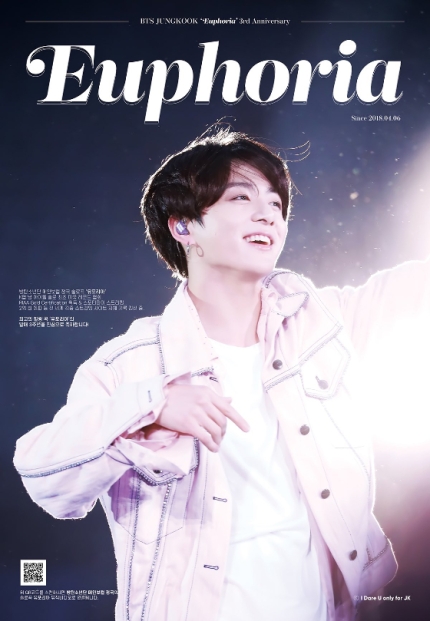 Jungkook of BTS is celebrating the 3rd anniversary of his solo song, 'Euphoria.' His fan account attracts because of a full newspaper advertisement.
Jungkook's fan account, 'I Dare U,' announced a newspaper advertisement on the 6th. The newspaper advertisement says, "Please congratulate a lot on the eternal healing song Euphoria's birthday!" Recently, Jungkook revealed through his personal social media account that he is conducting interstitial advertisements.
Jungkook's solo song 'Euphoria' is from the BTS album, 'LOVE YOURSELF 結 Answer,' released by BTS in August 2018. Before its official release, BTS pre-released the album with a video of 8 minutes 52 seconds on April 6, 2018. 'Euphoria' showed the potential of being in the long-term chart for 7 months on Melon, a local music site.
After the release of 'Euphoria,' 2 years and 8 months ago, it surpassed more than 220 million streams on Spotify. 'Euphoria' is the most streamed solo song by a Korean idol. In its 58th week, Spotify's chart showed the song's power, which is getting popular until today.
Recently, 'Euphoria' is still enjoying its popularity in the global music source, which sold more than 500,000 units in the US. This makes 'Euphoria' as first Korean male idol solo song and the first BTS solo song to achieve such a record.
Fans say, "I'll definitely remember next Tuesday. I'm so happy that I think we can see it on our regular page."
"Can't you send a copy to Jungkook?"
"Jungkook's love is wonderful."
Meanwhile, 'Euphoria' conveys the pure feelings of falling in love. It is made possible with Jungkook's distinctive clear, and pure voice. Also, Jungkook is freely hitting the middle and high notes. His cool, refreshing treble and addictive melody captivated the fans and consistently received great love worldwide.
Read More About: BTS Jungkook, Ecstatic Man Who Captures Women's Heart
2021 kpop news
,
2021 kpop news updates
,
2021 kpop updates
,
2021 updates on kpop
,
BTS
,
bts Jungkook
,
bts Jungkook 2021
,
BTS News
,
BTS today
,
BTS UPDATES
,
BTS_JUNGKOOK
,
JUNGKOOK
,
jungkook euphoria
,
Kpop 2021
,
Kpop artist
,
Kpop artists
,
KPOP BTS
,
Kpop idols
,
Kpop news
,
Kpop trending
,
KPop trending news
,
KPOP2021
,
KPOPIDA
,
KPOPNEWS
,
Kpopnews 2021
,
Kpopnews2021