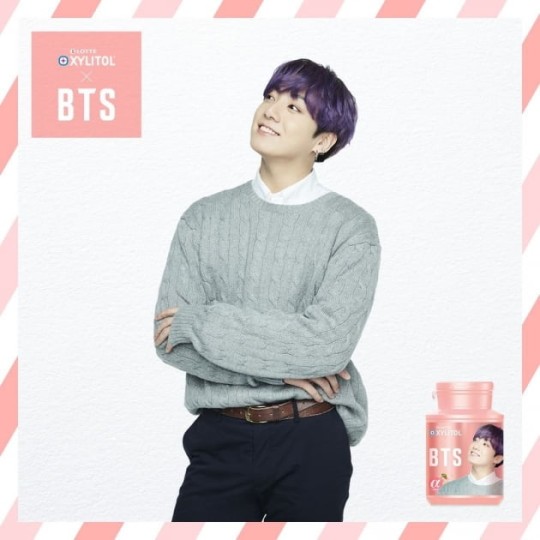 BTS Jungkook caught the attention of fans by exuding his sweet charm.
Recently, Xylitol released the Jungkook version of 'The Seventh Collaboration Photo' with the global model BTS through their official Instagram.
In the photo, Jungkook exuded a youthful look with pale skin like peach flesh and purple hair.
Jungkook melted the hearts of women with his bright white smile and pure bright eyes.
Also, Jungkook radiated his loveliness and an aura like a male protagonist who just popped out of a pure cartoon.
At the same time, BTS Jungkook showed off a fantastic model figure from a bright and pure visual, further immersing the eyes.
In response, fans commented, "Jungkook is sweet and fresh,' 'JK, who is harmlessly lovely in the world," "JK, a true model of a xylitol advertisement with a very pretty smile," "Jungkook's smile makes the world go round," "My healing!! Being like a vitamin!!" "My eyes are so pure, I can see your face so clean," "JK has a mountain of xylitol at home," "The face is a complete young boy, a genuine manga character," and "I have to buy a peach right away and own it."
Read More About: BTS Jungkook Released A Warm & Sincere Handwritten Greetings For Lunar New Year
agust d
,
best Kpop girl group
,
best kpop news site
,
best kpopstar
,
breaking news kpop
,
BT21
,
BTS
,
BTS Army
,
BTS BILLBOARD
,
bts butter
,
BTS fancam
,
BTS I'll Be Missing You
,
BTS J-Hope
,
bts jimin
,
bts Jungkook
,
BTS member
,
bts member Jimin
,
BTS member V
,
BTS Members
,
BTS News
,
BTS recent news
,
BTS routine
,
BTS solo songs
,
bts suga
,
BTS trending news
,
BTS UPDATES
,
BTS V
,
daily kpop news
,
Fandom
,
Filter
,
J-hope
,
JIMIN
,
Jin
,
JUNGKOOK
,
Korean celeb news
,
Korean singer
,
Korean singer songwriter
,
KPOP
,
Kpop album
,
Kpop beauty routine
,
Kpop boy group
,
KPOP BTS
,
kpop celebrity news
,
Kpop chart and news
,
Kpop colllaboration
,
KPOP comeback
,
Kpop current news
,
kpop daily news
,
Kpop fashion
,
Kpop girls group
,
Kpop idols
,
Kpop issues
,
Kpop latest news
,
Kpop music chart
,
Kpop news
,
Kpop news articles
,
Kpop news sites
,
kpop news update
,
Kpop recent news
,
Kpop skin care routine
,
Kpop skincare routine
,
KPop trending news
,
KPOPNEWS
,
permission to dance
,
RM
,
Run BTS
,
South Korean singer songwriter
,
SUGA
,
TAEHYUNG KIM
,
the best kpop girl group
,
the best kpop girl group of 2021
,
the best kpop group of 2021
,
the top kpop group
,
top kpop boy group
,
top kpop girl group
,
V
,
weverse magazine