Jungkook of BTS wants to deliver a happy and beautiful message. He showed off his handsomeness, captivating the attention of the fans.
Recently, BTS' official YouTube channel 'Bangtan TV' unveiled the behind-the-scenes story of the shooting site of the UNICEF 'LOVE MYSELF' campaign signing ceremony. It is under the title of 'LOVE MYSELF Campaign Special Announcement.'
Among them, member Jungkook gave off a calm and soft atmosphere. He appeared in a gray-toned knitwear and black pants.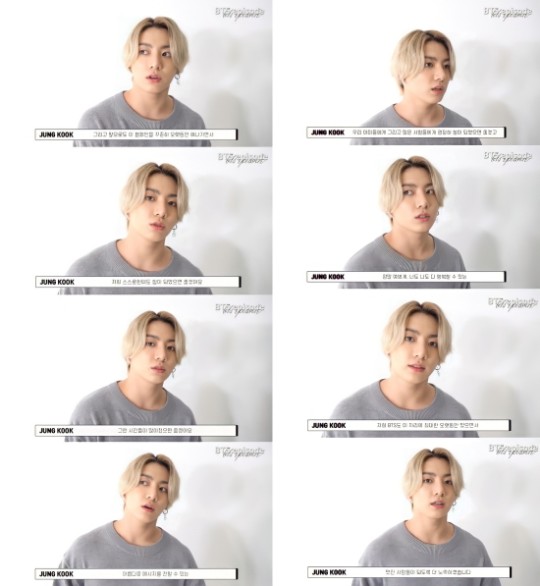 Throughout the filming, BTS Jungkook smiled brightly, which radiated a pleasant energy that makes the viewers laugh.
He also delivered a sincere message about 'LOVE MYSELF' to fans around the world.
In the video, Jungkook said, "I did a 'LOVE MYSELF' shoot, and it was a very meaningful time."
Subsequently, Jungkook conveyed his support and hope, "(LOVE MYSELF) This is a wonderful word. I hope there will be more such times so that you and I can be happy too."
BTS Jungkook expressed his determination, "In the future, BTS will still be here as long as possible. We will try harder to become such wonderful people who can deliver a happy and beautiful message to all of you."
Read More About:
BTS Jungkook Bid A 'Happy Mother's Day Special Message'
BTS Jimin, A Gentleman Playing Table Tennis
BTS
,
bts Jungkook
,
bts Jungkook 2021
,
BTS News
,
BTS today
,
BTS UPDATES
,
BTS_JUNGKOOK
,
BTS_Love my self
,
BTS_UNICEF
,
JUNGKOOK
,
jungkook bts
,
jungkook of BTS
,
jungkook_bts
,
KPOP BTS
,
Kpop trend
,
Kpop trending
,
KPop trending news
,
Kpop trending now
,
Kpop_BTS
,
KPOPIDA
,
Love myself
,
Trending
,
trending 2021
,
trending kpop
,
Trending Kpop news
,
trending kpop update
,
trending news
,
trending update kpop
,
UNICEF
,
UNICEF_BTS