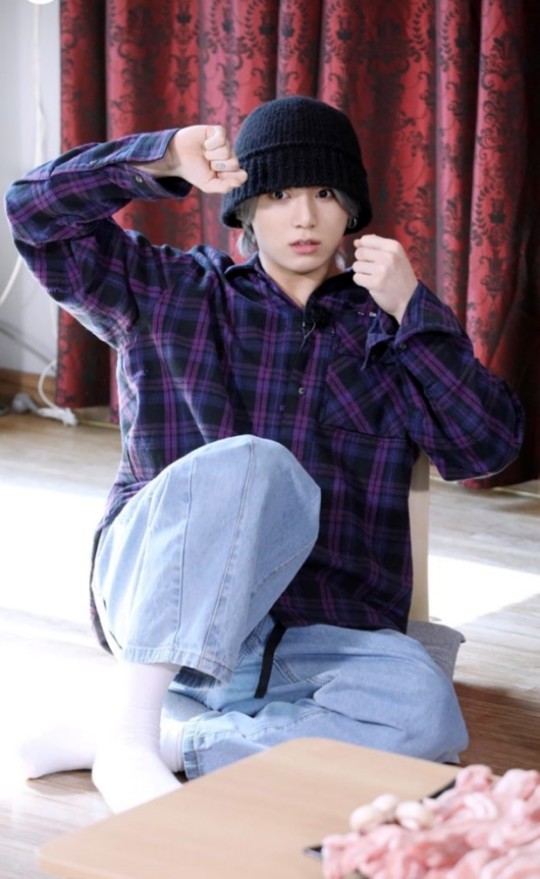 BTS Jungkook caught the eye of the viewers by giving off his lovely charm.

On the 6th of May, the official Instagram of tvN's entertainment program "Fifteen Nights On A Business Trip" released the behind-the-scenes photo of Jungkook. He is one of the BTS members who appeared on the collaboration broadcast of 'Run BTS' and 'Fifteen Nights On A Business Trip.'

In the photo, Jungkook is sitting down, holding his fist over his head. He is staring straight at the front with a pure boy-like look.

So, Jungkook's dainty gestures and sitting posture melt women's hearts as he gave off his cute charm and explosive puppy-eye look.
Recently, they released the 140th episode of Run BTS on Naver V LIVE and Weverse on the 4th of May. They first showed the collaboration with tvN entertainment program 'Fifteen Nights on A Business Trip.'

On the same day, Jungkook attracted attention by decorating the finale of the show with a word of "Satala (Youngcheol Kim nickname 'Uncle Satala')."

Later on, in the full-fledged "Character Quiz," BTS Jungkook showed a great performance. He is like an ace in the entertainment by matching characters. In fact, he got the answers correct, such as singer Jinyoung Park, actor Jungsuk Jo, animation characters Frozen and Olaf, and actor Hyun Bin.

Then, BTS Jungkook saw the photo of actor Youngcheol Kim and shouted 'Satala (Uncle Satala in Korea)' with confidence. It is contrary to the members' expectations that he would get the right answer.

BTS Jungkook, who can't remember Youngcheol Kim's name, said the buzzword "Satala" as the answer. So, the scene became a sea of laughter, and Jungkook became the ending fairy of the day.

Then, Production Director Na (Youngseok Na) shouted, "Wrong!" BTS Jungkook had lingering feelings until the end, so he asked the production team. He said, "If I said Doohan Kim, would it be a success?" Production Director Na replied, "No. Wrong."
Read More About: BTS Jungkook Expressed His Athletic Charm
BTS
,
bts Jungkook
,
BTS News
,
BTS today
,
BTS UPDATES
,
BTS_JUNGKOOK
,
BTSTREND
,
JUNGKOOK
,
jungkook bts
,
jungkook_bts
,
KPOP
,
Kpop 2021
,
Kpop artist
,
Kpop artists
,
KPOP BTS
,
Kpop idols
,
Kpop news
,
Kpop trending
,
KPop trending news
,
Kpop trending now
,
kpop trending update
,
KPOP2021
,
Kpopall
,
KPOPIDA
,
KPOPNEWS
,
Trending
,
trending 2021
,
trending kpop
,
Trending Kpop news
,
trending kpop update
,
trending news
,
trending update kpop