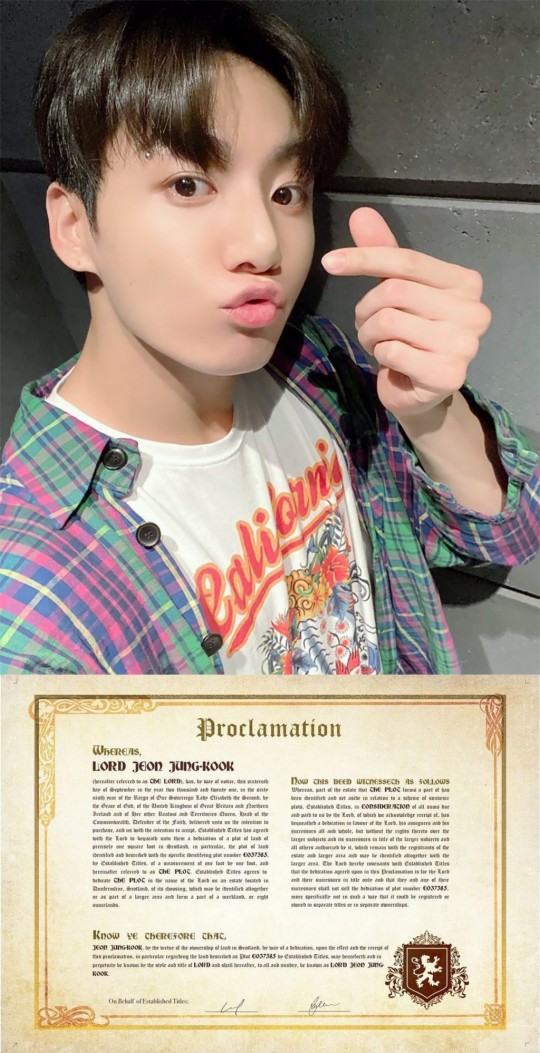 BTS Jungkook caught the attention of fans worldwide as he emerged as the lord who owned land in Scotland, England. Recently, a famous Filipino actress, Arci Muñoz, bought the land in the name of Jungkook and put on the title, 'Lord Jeon Jungkook.'
Arci Muñoz recently said on her social media account that he bought land in Scotland to celebrate Jungkook's birthday.
In this social media post, Arci Muñoz posted a photo of a Scottish land purchase certificate with the title 'Lord Jeon Jungkook,' along with a large figure of BT21 cooky, a character designed by BTS Jungkook.
Along with this, she wrote, "To: Lord #jeonjungkook It's better late than never!!! Happy birthday! Ya now a lord and ya own a piece of #scotland."
This is a certificate of land purchase located in the 'Highland Titles Nature Reserve' to raise funds for the Scottish Nature Reserve.
The Sanctuary allows the public to purchase a portion of the Scottish Highlands estate. Also, it allows landowners to use the designations 'lord' or 'landlord,' although they have no special rights as lords.
As a result, BTS Jungkook received a special birthday present to acquire new titles. It includes 'Golden Youngest' 'BTS Main Vocal,' 'Sir Jeon Jungkook' and 'Lord Jeon Jungkook.'
The news quickly spread to overseas media such as NYLON Manila, hindustantimes, republic world, worldhours24, Entertainment Daily, and Koreaboo.
Meanwhile, on the occasion of his birthday, the Japanese fan base 'Jungkook JAPAN' purchased a star from 'Star Registration' and gave it to him under the names 'Jungkook' and 'Army.'
In addition, the Singapore fan base JUNGKOOK SINGAPORE purchased 4000 square feet of land on the Moon's Lacus Feclicitatis (Lake of Happiness). They presented a 'Moon Land Certificate,' named under 'Jeon Jungkook.'
Read More About: BTS 'Permission To Dance' Performance 'Extended' Version Released!
agust d
,
best Kpop girl group
,
best kpop news site
,
best kpopstar
,
breaking news kpop
,
BT21
,
BTS
,
BTS Army
,
BTS BILLBOARD
,
bts butter
,
BTS fancam
,
BTS I'll Be Missing You
,
BTS J-Hope
,
bts jimin
,
bts Jungkook
,
BTS member
,
bts member Jimin
,
BTS member V
,
BTS Members
,
BTS News
,
BTS recent news
,
BTS routine
,
BTS solo songs
,
bts suga
,
BTS trending news
,
BTS UPDATES
,
BTS V
,
daily kpop news
,
Fandom
,
Filter
,
J-hope
,
JIMIN
,
Jin
,
JUNGKOOK
,
Korean celeb news
,
Korean singer
,
Korean singer songwriter
,
KPOP
,
Kpop album
,
Kpop beauty routine
,
Kpop boy group
,
KPOP BTS
,
kpop celebrity news
,
Kpop chart and news
,
Kpop colllaboration
,
KPOP comeback
,
Kpop current news
,
kpop daily news
,
Kpop fashion
,
Kpop girls group
,
kpop group NATURE
,
Kpop idols
,
Kpop issues
,
Kpop latest news
,
Kpop music chart
,
Kpop nature
,
Kpop news
,
Kpop news articles
,
Kpop news sites
,
kpop news update
,
Kpop recent news
,
Kpop skin care routine
,
Kpop skincare routine
,
KPop trending news
,
KPOPNEWS
,
NATURE
,
NATURE kpop
,
NATURE members
,
NATURE news
,
permission to dance
,
RM
,
Run BTS
,
South Korean singer songwriter
,
SUGA
,
TAEHYUNG KIM
,
the best kpop girl group
,
the best kpop girl group of 2021
,
the best kpop group of 2021
,
the top kpop group
,
top kpop boy group
,
top kpop girl group
,
V
,
weverse magazine