BTS member Jin's thoughtful words toward his fans made the fans' hearts flutter.
On the night of October 27, Jin showed his warm fan love by leaving several comments on fans' posts on the fan community platform Weverse.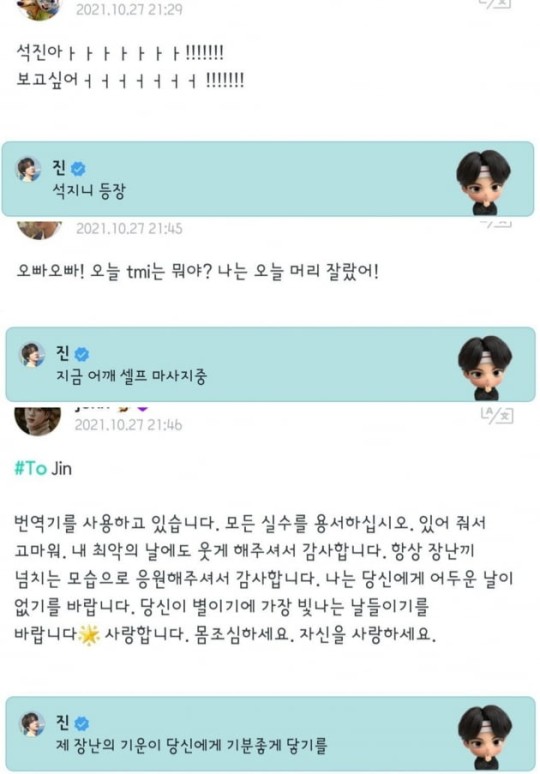 A fan posted on Weverse, saying, "Seokjin, I want to see you!" expressing her long to Jin.
Then, BTS Jin commented on the post, saying, "Appeared, Seokjini," which melted the hearts of the fans.
Then another fan posted, "Opaopa! What's tmi today? I cut my hair today!"
Then, Jin commented an honest and caring reply, saying, "I am doing a self-massage of my shoulder right now."
Using a translator, another BTS fan posted, "Forgive all your mistakes. Thank you for staying. Thank you for making me laugh even on my worst day. And thank you for always cheering me on with a playful look. I wish you have no dark days. I hope you have the most brilliant days because you are a star. Also, I love you! Take care of yourself. Love yourself!"
On the foreign fan's post, BTS Jin responded, saying, "I hope that the energy of my pranks will reach you comfortably."
In addition, a fan posted, "Why didn't you say 'Seokjini?"
So, BTS member Jin left a witty comment, "Sorry, I forgot," making fans smile.
Read More About: BTS Jungkook 'Falling' Cover Trends On Twitter & YouTube Worldwide!
agust d
,
best Kpop girl group
,
best kpop news site
,
best kpopstar
,
breaking news kpop
,
BT21
,
BTS
,
BTS Army
,
BTS BILLBOARD
,
bts butter
,
BTS fancam
,
BTS I'll Be Missing You
,
BTS J-Hope
,
bts jimin
,
bts Jungkook
,
BTS member
,
bts member Jimin
,
BTS member V
,
BTS Members
,
BTS News
,
BTS recent news
,
BTS routine
,
BTS solo songs
,
bts suga
,
BTS trending news
,
BTS UPDATES
,
BTS V
,
daily kpop news
,
Fandom
,
Filter
,
Hip-hop Idol JIN
,
J-hope
,
JIMIN
,
Jin
,
JIN news
,
JUNGKOOK
,
Korean celeb news
,
Korean singer
,
Korean singer songwriter
,
KPOP
,
Kpop album
,
Kpop beauty routine
,
Kpop boy group
,
KPOP BTS
,
kpop celebrity news
,
Kpop chart and news
,
Kpop colllaboration
,
KPOP comeback
,
Kpop current news
,
kpop daily news
,
Kpop fashion
,
Kpop girls group
,
kpop idol JIN
,
Kpop idols
,
Kpop issues
,
Kpop latest news
,
Kpop music chart
,
Kpop news
,
Kpop news articles
,
Kpop news sites
,
kpop news update
,
Kpop recent news
,
Kpop skin care routine
,
Kpop skincare routine
,
KPop trending news
,
KPOPNEWS
,
permission to dance
,
RM
,
Run BTS
,
Singer JIN
,
South Korean singer songwriter
,
SUGA
,
TAEHYUNG KIM
,
the best kpop girl group
,
the best kpop girl group of 2021
,
the best kpop group of 2021
,
the top kpop group
,
top kpop boy group
,
top kpop girl group
,
V
,
weverse magazine