BTS Jin once again showed his dazzling popularity and influence as the global social media king.
Global superstar Jin showed off his shining presence by ranking 4th among global artists and 1st among Korean male solo artists on social media in January.
Jin also set the record for being the first K-pop artist in the top 10 most mentioned global celebrities on social media for seven consecutive months.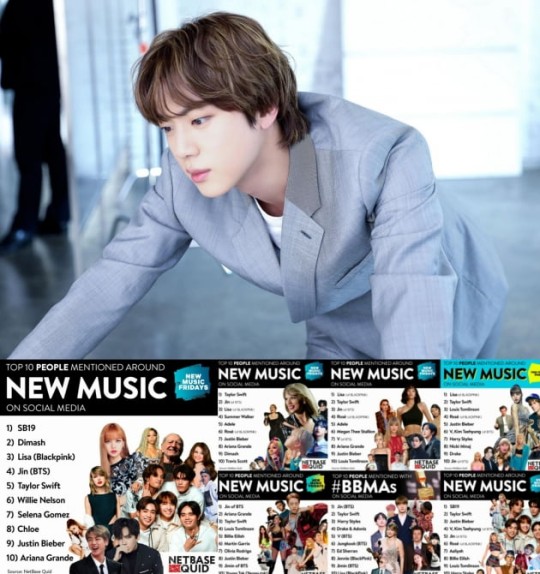 In January, a US consumer and market research platform, NetBase Quid, announced the top 10 most mentioned artists on social media worldwide, focusing on 'New Music,' through their official account on January 15.
Jin is the only BTS member to steadily climb the charts on social media every month. He is proving his strong presence and popularity.
Founded in 2004, NetBase Quid analyzes the impact of consumer-driven decision-making for companies such as Coca-Cola, Hyundai, American Airlines, United Airlines, Microsoft, and Walmart.
In December of last year, a US media reported, 'BTS Jin Becomes The First Korean Artist To Stay In The Top 10 Most Mentioned Celebrities For 6 Consecutive Months.'
Jin has never left the charts and has become the first Korean singer to reach number one twice.
Jin took first place in the boy group personal brand reputation in December 2021, announced by the Korea Institute of Corporate Reputation on December 18. He is demonstrating his global power and receiving enthusiastic cheers from fans around the world.
In addition, Jin, the silver vocalist, shows a wide range of musical capabilities and musical transformation. He released his first solo OST 'Yours' and self-composed song 'Super Tuna,' which have opposite charms. So, he will surely take more steps in the future.
Read More About: BTS Jimin Surpasses 4 Million Streams On The Middle East 'Anghami' Music Platform With His 3 Solo Songs
agust d
,
best Kpop girl group
,
best kpop news site
,
best kpopstar
,
breaking news kpop
,
BT21
,
BTS
,
BTS Army
,
BTS BILLBOARD
,
bts butter
,
BTS fancam
,
BTS I'll Be Missing You
,
BTS J-Hope
,
bts jimin
,
bts Jungkook
,
BTS member
,
bts member Jimin
,
BTS member V
,
BTS Members
,
BTS News
,
BTS recent news
,
BTS routine
,
BTS solo songs
,
bts suga
,
BTS trending news
,
BTS UPDATES
,
BTS V
,
daily kpop news
,
Fandom
,
Filter
,
Hip-hop Idol JIN
,
J-hope
,
JIMIN
,
Jin
,
JIN news
,
JUNGKOOK
,
Korean celeb news
,
Korean singer
,
Korean singer songwriter
,
KPOP
,
Kpop album
,
Kpop beauty routine
,
Kpop boy group
,
KPOP BTS
,
kpop celebrity news
,
Kpop chart and news
,
Kpop colllaboration
,
KPOP comeback
,
Kpop current news
,
kpop daily news
,
Kpop fashion
,
Kpop girls group
,
kpop idol JIN
,
Kpop idols
,
Kpop issues
,
Kpop latest news
,
Kpop music chart
,
Kpop news
,
Kpop news articles
,
Kpop news sites
,
kpop news update
,
Kpop recent news
,
Kpop skin care routine
,
Kpop skincare routine
,
KPop trending news
,
KPOPNEWS
,
permission to dance
,
RM
,
Run BTS
,
Singer JIN
,
South Korean singer songwriter
,
SUGA
,
TAEHYUNG KIM
,
the best kpop girl group
,
the best kpop girl group of 2021
,
the best kpop group of 2021
,
the top kpop group
,
top kpop boy group
,
top kpop girl group
,
V
,
weverse magazine