The fact that BTS member Jin became an opportunity for collaboration with BTS and Coldplay was revealed on the official account of 'Now That's Music' and attracts attention.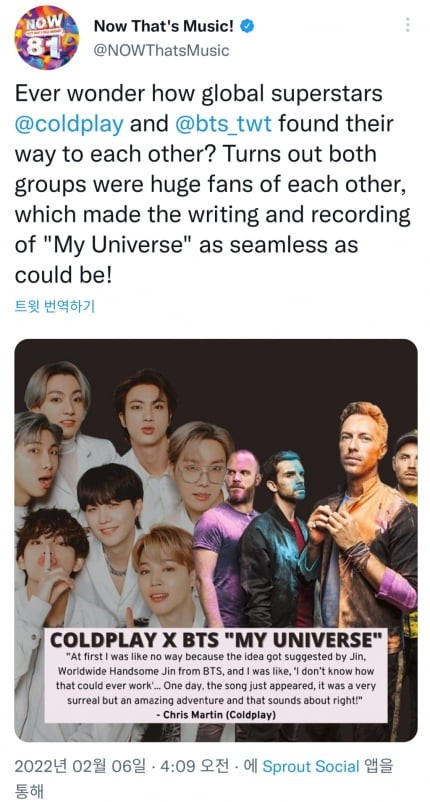 On February 6, the official Twitter account of NOW That's Music in the US said, "Ever wonder how global superstars Coldplay and BTS found their way to each other? It turns out both groups were huge fans of each other, which made the writing and recording of 'My Universe' as seamless as could be!"
In the photo, Coldplay's Chris Martin said, "At first I was like no way because the idea got suggested by Jin, Worldwide Handsome Jin from BTS. And I was like, I don't know how that could ever work. One day, the song just appeared. It was a very surreal but amazing adventure. Also, it sounds about right!"

Recently, Chris Martin said in an interview with Ken Bruce on BBC Radio that Jin, a World Wide Handsome, also proposed collaboration between BTS and Coldplay in 'Coupang Play Concert: Coldplay,' 'Elvis Duran Show' in the United States, and 'On Air With Ryan Seacrest.'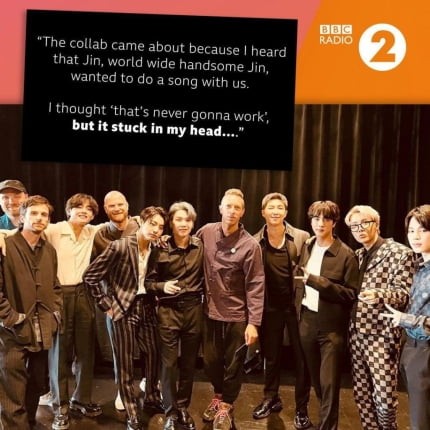 Last September, Chris Martin gave Jin a surprise gift while BTS visited New York, USA. Chris drew Jin's name and nickname 'Worldwide Handsome' and hearts on the guitar he used for ten years.
In fact, Chris Martin gave Jin a gift after kissing his guitar. It means that it is his favorite guitar, and he respects Jin.
The unchanging friendship of these two world-class superstars warmed the world.
Read More About: BTS Jin, Praised By American Producer Mattie Abt!
agust d
,
best Kpop girl group
,
best kpop news site
,
best kpopstar
,
breaking news kpop
,
BT21
,
BTS
,
BTS Army
,
BTS BILLBOARD
,
bts butter
,
BTS fancam
,
BTS I'll Be Missing You
,
BTS J-Hope
,
bts jimin
,
bts Jungkook
,
BTS member
,
bts member Jimin
,
BTS member V
,
BTS Members
,
BTS News
,
BTS recent news
,
BTS routine
,
BTS solo songs
,
bts suga
,
BTS trending news
,
BTS UPDATES
,
BTS V
,
daily kpop news
,
Fandom
,
Filter
,
Hip-hop Idol JIN
,
J-hope
,
JIMIN
,
Jin
,
JIN news
,
JUNGKOOK
,
Korean celeb news
,
Korean singer
,
Korean singer songwriter
,
KPOP
,
Kpop album
,
Kpop beauty routine
,
Kpop boy group
,
KPOP BTS
,
kpop celebrity news
,
Kpop chart and news
,
Kpop colllaboration
,
KPOP comeback
,
Kpop current news
,
kpop daily news
,
Kpop fashion
,
Kpop girls group
,
kpop idol JIN
,
Kpop idols
,
Kpop issues
,
Kpop latest news
,
Kpop music chart
,
Kpop news
,
Kpop news articles
,
Kpop news sites
,
kpop news update
,
Kpop recent news
,
Kpop skin care routine
,
Kpop skincare routine
,
KPop trending news
,
KPOPNEWS
,
permission to dance
,
RM
,
Run BTS
,
Singer JIN
,
South Korean singer songwriter
,
SUGA
,
TAEHYUNG KIM
,
the best kpop girl group
,
the best kpop girl group of 2021
,
the best kpop group of 2021
,
the top kpop group
,
top kpop boy group
,
top kpop girl group
,
V
,
weverse magazine