BTS Jin took the first place with an overwhelming number of votes in the 'Best Kpop Prince' voting.
In the 'Best Kpop Prince' vote held at 'KPOP VOTE' from May 7th to May 30th, he won with 41,612 votes and took first place.
BTS Jin is shining as a K-pop representative 'Prince.'
He took first place in the KBS World 'The Prince Of Fairytale Idol' poll that aired in 2019.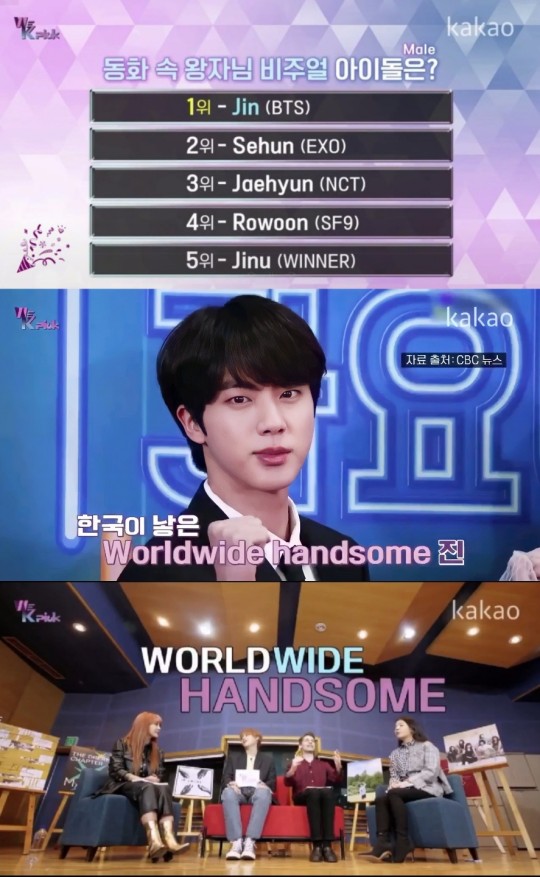 Fans all over the world loved BTS Jin for his fantastic visuals. His fans loved his small face, big eyes without double eyelids, a sharp nose, thick lips, and white, clear skin.
Last year, Jin perfectly transformed into a little prince at the BTS online concert 'MAP OF THE SOUL ON:E.'
He performed his own solo song, 'Moon,' which attract enthusiastic responses from fans.
After the performance on this day, 'The Little Prince' ranked first on the real-time trend in Korea on Twitter. It proved that fans have a passionate interest in Jin and his 'Moon' performance.
In addition, BTS Jin once again proved to be the K-pop representative 'Visual King' by ranking first in the 'King of Visual Kpop 2021' category held on the voting site 'KPOP VOTE.' He is proving his dignity as 'The Worldwide Handsome.'
Read More About: BTS V Chinese Fans Conducts Magazine Congratulatory Advertisement
BTS
,
BTS Army
,
bts jin
,
BTS News
,
BTS songs
,
BTS today
,
bts trending
,
BTS UPDATES
,
BTS_JIN
,
BTSTREND
,
jin bts
,
jin kpop
,
Jin_Worldwide Hansome
,
Kim Seok-Jin
,
kim seokjin
,
KPOP
,
Kpop 2021
,
Kpop artist
,
Kpop artists
,
KPOP BTS
,
Kpop idols
,
Kpop news
,
Kpop trend
,
Kpop trending
,
KPop trending news
,
Kpop trending now
,
KPOP2021
,
Kpopall
,
KPOPIDA
,
KPOPNEWS
,
Trending
,
trending 2021
,
trending kpop
,
Trending Kpop news
,
trending kpop update
,
trending news
,
trending update kpop