BTS Jin won the hearts of global fans with his elegant charm and handsomeness.
On September 19th, BTS released a greeting video on BANGTANTV, the official YouTube channel of BTS.
BTS dressed up in elegant Hanbok of different colors and welcomed Chuseok (Autumn Eve). Each member showed a bright and cheerful appearance, saying their wishes. Jin, dressed in a light purple hanbok with a traditional silver pattern, showed up in a beautiful yet clean appearance.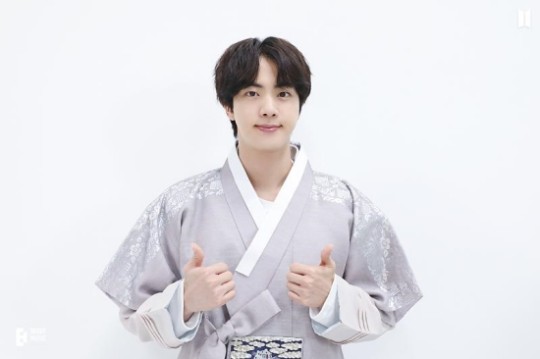 BTS Jin pondered with member Suga's unique playful expression and tone when he said, "My wish is for Jin's wish to come true," and then cheerfully led the filming atmosphere by saying, "My wish is for Jungkook's wish to come true."
Also, member J-Hope said, "My wish is for the wishes of the ARMYs (fandom) to come true," then he added, "Isn't that all we want?"
J-Hope also revealed his love for ARMYs. He continued, "For the day we meet again, ARMYs, we promise to take care of our health! Promise~ Promise!" and showed a lovely cute expression.
BTS prepared one more gift on the occasion of the Mid Autumn Festival. There was an article titled 'BTS, Sweeter Than Chuseok Holiday' and photos of the members posted on the BIG Hit Music official Naver Post account.
Bangrim, who manages Naver's account, released selfies and group photos of members wearing Hanbok and sought the hearts of the ARMYs that would have been disappointed just by the video.
BTS Jin with a natural black hairstyle, slightly reveals his forehead.
His small face with fantastic proportions of straight, dark eyebrows, a straight nose, and voluminous lips was enough to make fans' hearts flutter.
Read More About: BTS Speaks At UN About The COVID-19 Vaccines
agust d
,
best Kpop girl group
,
best kpop news site
,
best kpopstar
,
breaking news kpop
,
BT21
,
BTS
,
BTS Army
,
BTS BILLBOARD
,
bts butter
,
BTS fancam
,
BTS I'll Be Missing You
,
BTS J-Hope
,
bts jimin
,
bts Jungkook
,
BTS member
,
bts member Jimin
,
BTS member V
,
BTS Members
,
BTS News
,
BTS recent news
,
BTS routine
,
BTS solo songs
,
bts suga
,
BTS trending news
,
BTS UPDATES
,
BTS V
,
daily kpop news
,
Fandom
,
Filter
,
Hip-hop Idol JIN
,
J-hope
,
JIMIN
,
Jin
,
JIN news
,
JUNGKOOK
,
Korean celeb news
,
Korean singer
,
Korean singer songwriter
,
KPOP
,
Kpop album
,
Kpop beauty routine
,
Kpop boy group
,
KPOP BTS
,
kpop celebrity news
,
Kpop chart and news
,
Kpop colllaboration
,
KPOP comeback
,
Kpop current news
,
kpop daily news
,
Kpop fashion
,
Kpop girls group
,
kpop idol JIN
,
Kpop idols
,
Kpop issues
,
Kpop latest news
,
Kpop music chart
,
Kpop news
,
Kpop news articles
,
Kpop news sites
,
kpop news update
,
Kpop recent news
,
Kpop skin care routine
,
Kpop skincare routine
,
KPop trending news
,
KPOPNEWS
,
permission to dance
,
RM
,
Run BTS
,
Singer JIN
,
South Korean singer songwriter
,
SUGA
,
TAEHYUNG KIM
,
the best kpop girl group
,
the best kpop girl group of 2021
,
the best kpop group of 2021
,
the top kpop group
,
top kpop boy group
,
top kpop girl group
,
V
,
weverse magazine