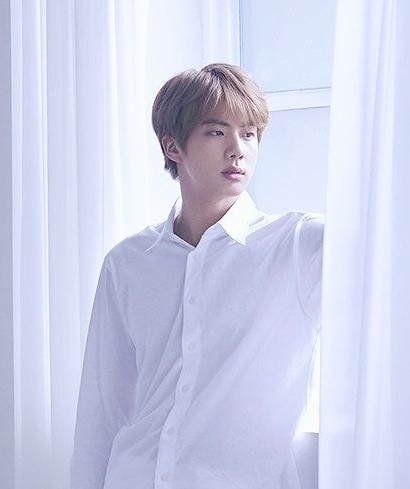 BTS Jin boasted off his 'Sold Out King' aspect once again in the United States. His Mattel doll version became a best-seller in the US.
Recently, a media outlet reported that Jin's Mattel doll became a bestseller at Walmart in the United States based on an article titled 'BTS Jin's Mattel doll is a best-seller at Walmart,' recording high sales. The media added that Jin's dolls are currently out of stock and that restocking requests are huge.
Jin's doll is the official doll collection of BTS released worldwide from Mattel, an American toy company famous for 'Barbie,' and Walmart, the most popular mart in the US.

BTS Jin's Mattel doll also appeared in Selena Gomez's 'Boyfriend' music video as a date with Selena Gomez. Also, the music video featured the outfits that he wore in the 'Idol' music video.
BTS Jin is the owner of numerous nicknames from around the world. His nicknames include Car Door Guy, Third Guy From The Left, and UN General Assemblyman for his striking and gorgeous looks. He is the world's most handsome man and 'world's most handsome sculpture' chosen by the Czech puppet designer team 'CzDollic.'
Nominees for the world's most handsome man must be naturally handsome regardless of age. The jury, made up of experts, said, "It was difficult to select because the criteria were so strict. The reason why we select Jin (Seokjin Kim) was because of his symmetrically balanced oval-shaped face. So, he can shoot from any angle with his lips beautifully curved."
The news that Jin became the world's number one handsome man aired on TVS worldwide, from Italy to Indonesia.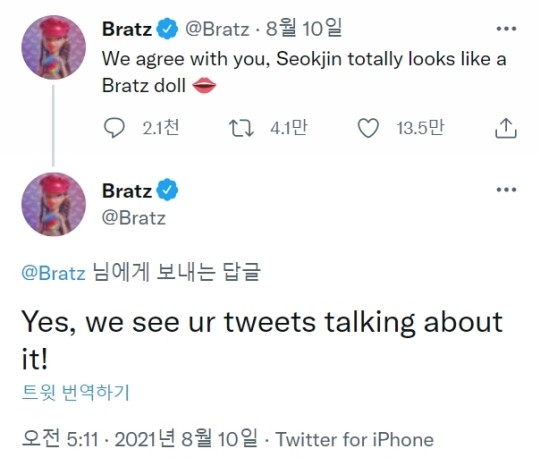 The famous American fashion doll brand 'Bratz' posted on its official Twitter account on August 10th. The company said, 'We agree with you, Seokjin totally looks like a Bratz doll."
Along with this, they posted an emoji in the shape of a lip, proving Jin's unrealistic beauty and unique presence. So, it receives enthusiastic responses from fans.
Global fans showed enthusiastic responses, such as:
"Seokjin is the official world's number 1 handsome man as per doll makers. But, we couldn't have or see the real Jin. Thank you Mattel (for allowing us to buy Seokjin doll)!"
"He is the best doll "Hey, I love you."
"Seokjin Kim, the most sculptural handsome man."
"CzDollic, a doll designer group, selected Seokjin as the world's number one handsome man through a rigorous selection and ranking process. Broadcast from Italian DEEJAY TV to Indonesian programs. It's okay."
"King Seokjin Kim out of stock!"
"The unquestioned king."
The media outlet reported that the products related to Jin were also out of stock.
These facts clearly prove that Jin is a sold-out man. Recently, the Tokopedia Jin photocard was out of stock after 30 seconds. Also, the carabiner mascot RJ keychain, the green Ricky Regal jacket worn in the latest vlive, and the ordinary people Donald Duck white shirt are out of stock.
Also, in the fall collection video of FILA's 'Find Your Basics 2021 FILA FALL COLLECTION' released on August 13th, the hooded t-shirt in the taupe brown color worn by Jin was the first to be out of stock among the outfits worn by BTS members.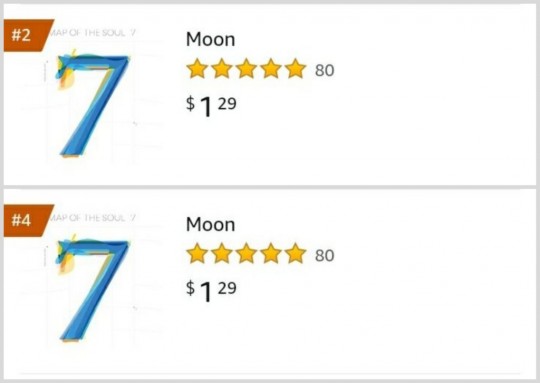 The media also mentioned that Jin's self-composed and solo song 'Moon' ranked 4th on Amazon's best-selling song in the US and 2nd on Amazon's best-selling international song.
Among the 'VT Perfume' in collaboration with BTS, Jin's perfume is the only representative of France and became a best-selling product on Sephora, the world's most famous cosmetics store.
BTS Jin's perfume placed 15th in Sephora's Top 50 list alongside Armani and Dior products.
In addition, the media introduced the BT21 RJ doll, called Jin's 'son,' as a world-class bestseller.
The products worn or used by Jin, who is called the man-god of beauty, caused a sell-out crisis one after another. So, Jin continued his role as the out-of-stock king.
Read More About; BTS Jin, A Man Who Is Lovely Every Day!
BTS
,
BTS Army
,
bts jin
,
bts jin Moon
,
BTS Jin Wrapping Bus
,
BTS Jin_Abyss
,
BTS Jin_Moon
,
BTS News
,
BTS songs
,
BTS today
,
bts trending
,
BTS UPDATES
,
BTS_JIN
,
BTSTREND
,
jin bts
,
jin kpop
,
Jin_Worldwide Hansome
,
Kim Seok-Jin
,
kim seokjin
,
KPOP
,
Kpop artist
,
Kpop artists
,
Kpop news
,
Kpop trend
,
Kpop trending
,
KPop trending news
,
Kpop trending now
,
kpop trending update
,
KPOP2021
,
KPOPIDA
,
KPOPNEWS
,
Mattel Dolls
,
Trending
,
trending 2021
,
trending kpop
,
Trending Kpop news
,
trending kpop update
,
trending news
,
trending update kpop
,
US Walmart