BTS Jin captured the women's hearts with his mysterious appearance and dreamy concept.
BTS released a preview video of each member's 'MAP OF THE SOUL ON:E CONCEPT PHOTO BOOK' concept film. They released it through the YouTube channel 'BANGTAN TV.'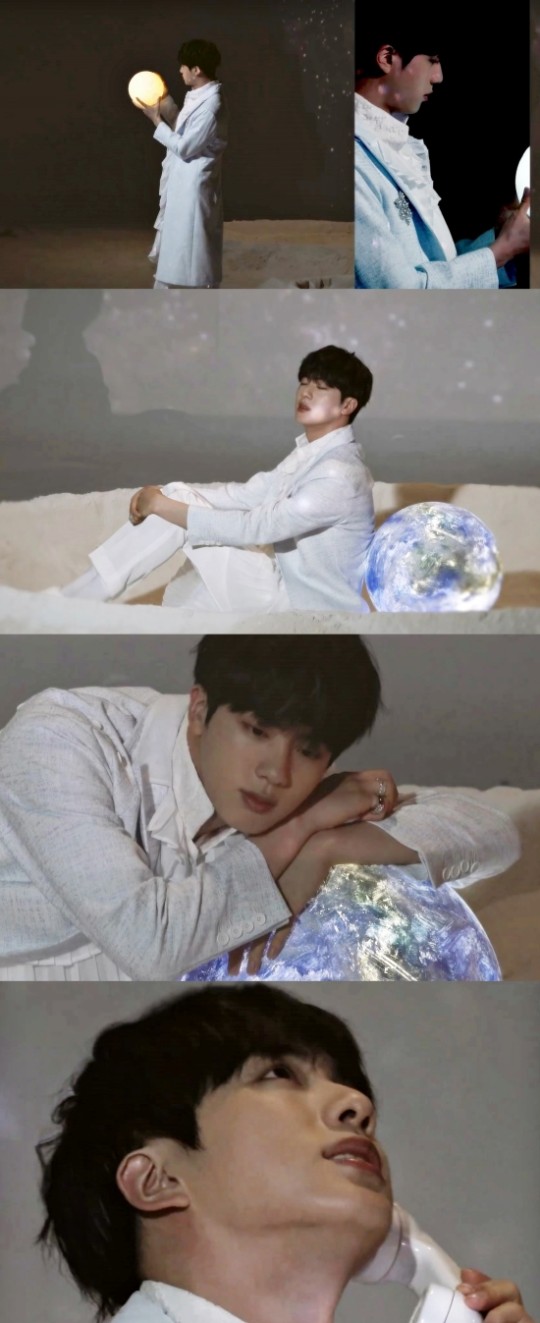 Under the concept of Jin's 'Little Prince,' he appeared wearing a white shirt with black hair and rich frills. He completed his prince-like look wearing a light sky blue coat.
With the universe effect as the background, he gazed into the air from a set of moon models, embracing a glowing globe that symbolizes 'Army (fandom).'
BTS Jin perfectly digested the concept of 'MOON,' his self-composed song for their fans.
Overseas media, AllKPop, said, "Jin looked shockingly handsome in this concept video with the theme of the Little Prince" and "Many people fell in love with the cute and sexy Jin." The media is expressing admiration for Jin's mysterious and seductive appearance.
Read More About: BTS 8th Debut Anniversary Full Of Wishes
2021 kpop news
,
2021 kpop updates
,
BTS
,
BTS Army
,
bts jin
,
bts jin Moon
,
BTS News
,
BTS songs
,
BTS today
,
bts trending
,
BTS UPDATES
,
BTS_JIN
,
BTSTREND
,
Group BTS
,
jin bts
,
jin kpop
,
Jin_Worldwide Hansome
,
Kim Seok-Jin
,
kim seokjin
,
KPOP
,
Kpop 2021
,
Kpop artist
,
Kpop artists
,
KPOP BTS
,
Kpop idols
,
Kpop news
,
Kpop trend
,
Kpop trending
,
KPop trending news
,
Kpop trending now
,
Kpop_BTS
,
KPOP2021
,
Kpopall
,
KPOPIDA
,
KPOPNEWS
,
trending kpop
,
Trending Kpop news
,
trending kpop update
,
trending update kpop