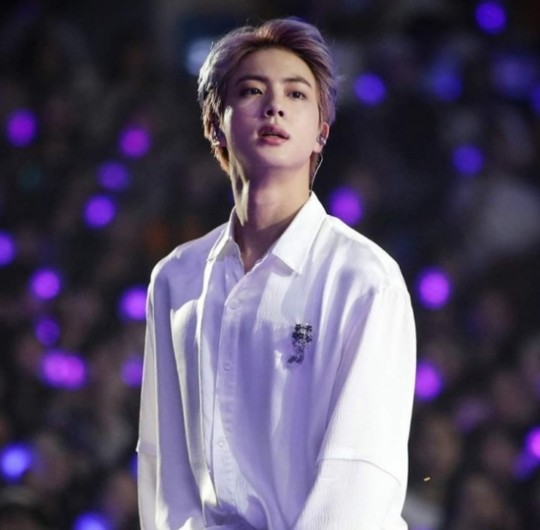 According to BTS Jin's fan club, a wrapping bus is currently in service to commemorate the second anniversary of his first self-composed song, 'Tonight.'
This coming June 5th marks the 2nd anniversary of Jin's first self-composed song, 'Tonight.' As a result, BTS Jin's fans created a 45-seater wrapping bus to celebrate the 2nd anniversary of 'Tonight.'
BTS Jin's first self-composed and solo song, 'Tonight,' released on June 5, 2019, through Sound Cloud, was written while thinking of his pets. Many music fans loved the song because of its beautiful melody, meaningful lyrics, and longing sensibility. As it is Jin's first self-composed song, it is very meaningful to fans.
In response, Jin's fan account 'Silver Voice Kim Seokjin' raised money from May 1st to 10th to celebrate the 2nd anniversary of 'Tonight' meaningfully and cheer for BTS Jin. The 2nd-anniversary bus will run around Seoul from May 15 to June 6.
The 2nd-anniversary bus of 'Tonight' catches the eye as they decorated it with Jin's picture and the color purple symbolizing BTS.
On one side of the bus, there is a phrase '190605, we have you every day, 2nd anniversary of TONIGHT.'
Also, the names of the pets raised by BTS Jin are present – Jjangu, Eomuk, and Odeng.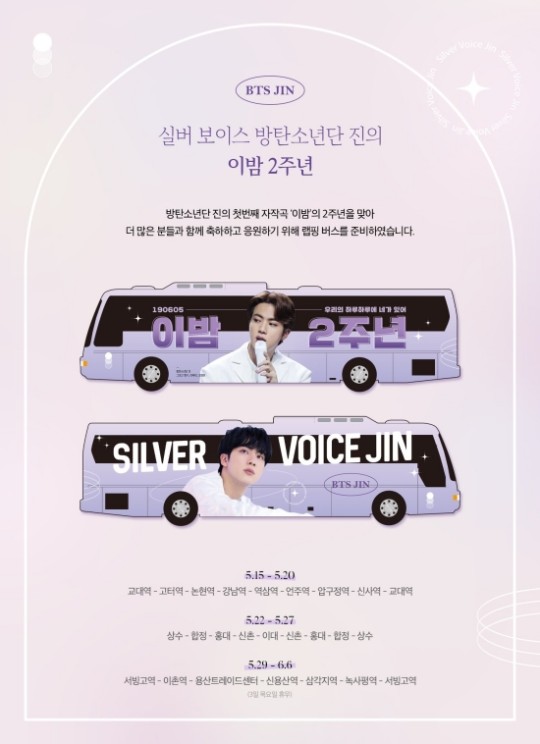 On the other side of the bus, a phrase, 'SILVER VOICE JIN,' symbolizes BTS Jin's excellent vocals. Also, there is a phrase, 'BTS WORLDWIDEHANDSOME Jin,' which symbolizes Jin's unrivaled appearance. Fans engraved these words as their support for Jin.
The 2nd Anniversary Bus of 'Tonight' will tour the Gangnam area. It includes Seoul Gyodae Station, Express Bus Terminal, Nonhyeon Station, and Gangnam Station from today (May 15) to May 20th.
From May 22nd to May 27th, the bus will operate around Hongdae. It includes Sangsu Station, Hapjeong Station, Shinchon Station, and Ewha Womans University.
Lastly, from May 29th to June 6th, the bus will tour the Yongsan area. It includes Seobinggo Station, Ichon Station, Yongsan Trade Center, and Sinyongsan Station in Seoul. During the period, including June 5, which is the second anniversary of 'Tonight,' BTS' agency, HYBE, will travel around the Yongsan new building to celebrate the song's second anniversary.
In addition, the bus is registered with GPS. It will allow users to check their driving records on the vehicle control service site 'Ubi-Khan.'
Read More About: HYBE Museum Features BTS Trophies To Sihyuk Bang's Inspirations
BTS
,
BTS Army
,
bts jin
,
BTS Jin Wrapping Bus
,
BTS News
,
BTS songs
,
BTS today
,
BTS UPDATES
,
BTSTREND
,
jin bts
,
jin kpop
,
JIN_TONIGHT
,
KPOP
,
Kpop 2021
,
Kpop artist
,
Kpop artists
,
Kpop idols
,
Kpop news
,
Kpop trending
,
KPop trending news
,
Kpop trending now
,
KPOP2021
,
Kpopall
,
KPOPIDA
,
KPOPNEWS
,
Trending
,
trending 2021
,
trending kpop
,
Trending Kpop news
,
trending kpop update
,
trending news
,
trending update kpop