BTS member Jin's handsome look captured the hearts of fans around the world.
On February 12, HYBE's original webtoon and web novel '7FATES: CHAKHO,' which collaborated with BTS, released the 'NAVERWEBTOONXBTS Super Casting Advertisement Filming Behind' video through the official Naver Webtoon YouTube channel.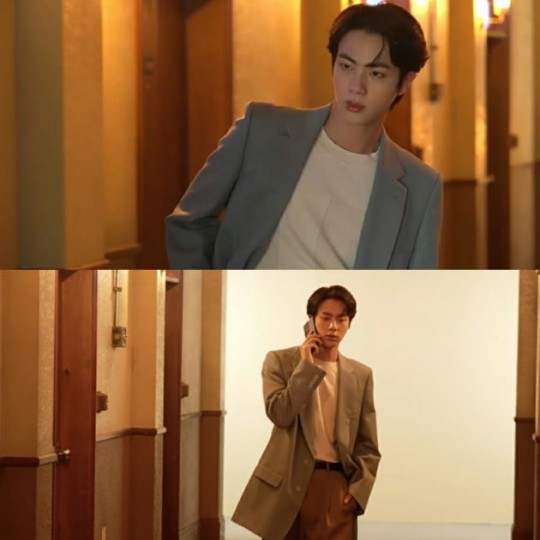 In the released video, BTS Jin took a picture with nice walking and pose reminiscent of a model like a subtitle 'The road he walks is the runway.'
He gave a realistic performance as if Jin was actually on the phone with his serious expression and gestures. The staff especially admired the way he was concentrating on the phone call with his lovely and cute expression.

BTS Jin appeared in an all-black warrior costume, boasting a radiant beauty, like the subtitle 'Beauty that emits light even without flashy lighting.'
BTS member Jin made the hearts of global fans flutter with his black hair that stands out and his flawless skin. His clear features stand out from a distance, along with his strong physical appearance.
You Might Also Like:
agust d
,
best Kpop girl group
,
best kpop news site
,
best kpopstar
,
breaking news kpop
,
BT21
,
BTS
,
BTS Army
,
BTS BILLBOARD
,
bts butter
,
BTS fancam
,
BTS I'll Be Missing You
,
BTS J-Hope
,
bts jimin
,
bts Jungkook
,
BTS member
,
bts member Jimin
,
BTS member V
,
BTS Members
,
BTS News
,
BTS recent news
,
BTS routine
,
BTS solo songs
,
bts suga
,
BTS trending news
,
BTS UPDATES
,
BTS V
,
daily kpop news
,
Fandom
,
Filter
,
Hip-hop Idol JIN
,
J-hope
,
JIMIN
,
Jin
,
JIN news
,
JUNGKOOK
,
Korean celeb news
,
Korean singer
,
Korean singer songwriter
,
KPOP
,
Kpop album
,
Kpop beauty routine
,
Kpop boy group
,
KPOP BTS
,
kpop celebrity news
,
Kpop chart and news
,
Kpop colllaboration
,
KPOP comeback
,
Kpop current news
,
kpop daily news
,
Kpop fashion
,
Kpop girls group
,
kpop idol JIN
,
Kpop idols
,
Kpop issues
,
Kpop latest news
,
Kpop music chart
,
Kpop news
,
Kpop news articles
,
Kpop news sites
,
kpop news update
,
Kpop recent news
,
Kpop skin care routine
,
Kpop skincare routine
,
KPop trending news
,
KPOPNEWS
,
permission to dance
,
RM
,
Run BTS
,
Singer JIN
,
South Korean singer songwriter
,
SUGA
,
TAEHYUNG KIM
,
the best kpop girl group
,
the best kpop girl group of 2021
,
the best kpop group of 2021
,
the top kpop group
,
top kpop boy group
,
top kpop girl group
,
V
,
weverse magazine