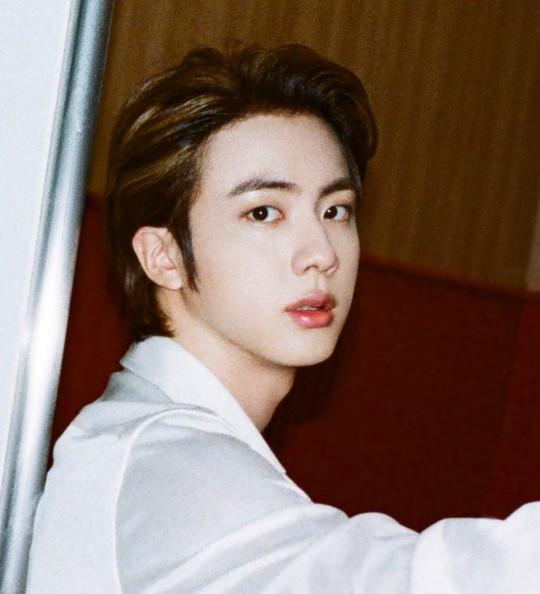 Global official accounts attract attention by revealing their passionate affection on the 'Butter' teaser photo of BTS Jin (Seokjin Kim).
BTS released a teaser photo of Jin for the digital single 'Butter' on Big Hit Music's official social media at midnight on May 13th.
In the photo released, BTS Jin captivated the fans with his forehead-exposed hairstyle and all-white outfit. His appearance is like a male god and a statue of beauty. So, his famous face and seductive figure looking at the camera leaning against the elevator door attracted enthusiastic fans worldwide.
Immediately after the release of the photo, the official account of Amazon Music in the United States said, "OH. MY. GOD." (Oh God), expressing passion and admiration with a purple heart and emoticons with heart eyes.
The official account of the World Music Awards showed their affection for Jin. So, they posted on Twitter with the hashtag "#MrWorldwideHandsome," introducing BTS Jin's 'Butter' first teaser photo, which they will release on May 21.

In fact, 'Worldwide Handsome' is what many people named Jin after looking at his appearance. Earlier, Billboard selected BTS Jin on 2017 Best Music Meme as 'Third Guy From The Left' (the third man standing from the left in the Billboard magenta carpet photo). The nickname that Jin earned is like an opportunity.
Also, US Media 'Allkpop' realized Jin's global popularity, saying, "Right after the release of BTS Jin's 'Butter' concept photo, it is trending around the world on Twitter."
Fans say, "What is the island where Seokjin was born?" Also, some fans responded enthusiastically, saying,
"He's Handsome."
"Seokjin is the most handsome man in the universe."
"As expected, World Wide Handsome."
"BTS Seokjin is hot,"
"I'm fascinated by the beauty of the male god again."
"Teaser photos are so cool, everyone has no choice but to fall in love with them."
On May 21st, BTS will simultaneously release a new digital single, 'Butter,' with a cheerful and bright atmosphere all over the world.
Read More About: BTS Jungkook, The Most Anticipated K-pop Idol On Solo Album
BTS
,
BTS Army
,
bts jin
,
BTS News
,
BTS today
,
bts trending
,
BTS UPDATES
,
BTS_JIN
,
BTSTREND
,
jin bts
,
jin kpop
,
kim seokjin
,
KPOP
,
Kpop 2021
,
Kpop artist
,
Kpop artists
,
KPOP BTS
,
Kpop idols
,
Kpop news
,
Kpop trend
,
Kpop trending
,
KPop trending news
,
Kpop trending now
,
Kpop_BTS
,
KPOP2021
,
KPOPIDA
,
KPOPNEWS
,
trending kpop
,
Trending Kpop news
,
trending kpop update