BTS Jin captured the attention of fans around the world with his clear and pure charm. BTS released the video 'BTS with Chris Martin + Compilation Video Drop on RELEASED (Official Trailer)' through their official YouTube channel BANGTANTV on September 3rd.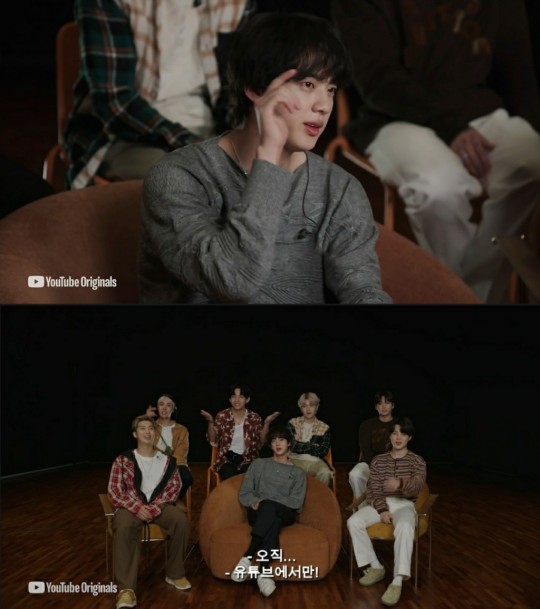 Jin showed off a refreshing look with black and slightly curled hair. His bangs covering his forehead, eyes sparkling like the Milky Way full of starlight, a thick and handsome nose with thin lines, and red lips are so pleasing to the eyes.
In addition, he is wearing a gray-colored loose-knit, black pants, and white sneakers. It gives off a neat yet autumn feel and accentuated his stylish side with a pearl necklace.
In the released video, Jin appeared cutely and lovingly while sitting on a fairly large, brown sofa, singing and vibing with 'Permission to Dance.'
He ignites fans' excitement with his sweet comment, "Set an alarm."
At 12:45 pm on September 10th (11:45 pm EST on September 9th), will launch the YouTube original weekly music show 'RELEASED'.
BTS and 'Coldplay' frontman Chris Martin will appear together and talk about their experience as a musician on a global stage and the 'Permission to Dance Challenge' recently held on YouTube Shorts.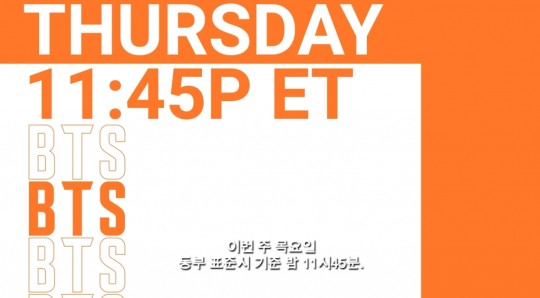 Fans said, "Is there any way not to love our little cutie?"
"I love you Jin-ah."
"What kind of person are you now? Jin-ah?"
"Nowadays, Seokjin is wearing accessories. Look."
"BTS Jin only wears long sleeves, but it feels like autumn. It's still summer."
"How can our Jin seem to be getting younger, time seems to go backward."
"If a man can be neat, You're talking about Seokjin."
▶BTS with Chris Martin + Compilation Video Drop on RELEASED (Official Trailer), BANGTANTV
Read More About: BTS Jimin Wins 5 Global Popularity Votes In One Day
BTS
,
BTS Army
,
bts jin
,
bts jin Moon
,
BTS Jin_Abyss
,
BTS Jin_Moon
,
BTS News
,
BTS today
,
bts trending
,
BTS UPDATES
,
BTS_JIN
,
BTSTREND
,
jin bts
,
jin kpop
,
Jin_Worldwide Hansome
,
Kim Seok-Jin
,
kim seokjin
,
KPOP
,
Kpop 2021
,
Kpop artist
,
Kpop artists
,
KPOP BTS
,
Kpop news
,
Kpop trend
,
Kpop trending
,
KPop trending news
,
Kpop trending now
,
kpop trending update
,
Kpop_BTS
,
KPOP2021
,
KPOPIDA
,
KPOPNEWS
,
Trending
,
trending 2021
,
trending kpop
,
Trending Kpop news
,
trending kpop update
,
trending news
,
trending update kpop