BTS Jimin gave healing to his fans with a recent photo he posted while on vacation.
On December 22, Jimin posted a lovely picture as his first real-time post on his personal Instagram account.
In the photo, Jimin sat on the railing with the cool winter sea in the background and covered his face with a deeply pressed hat and mask. But, despite his styling, his unique body fit and atmosphere, and the so-called 'banana knit,' which is famous among fans, made us recognize Jimin at a glance. So, it led to enthusiastic responses from fans.
Jimin, the member who posts the least on social media among BTS members, has surprised the public by maintaining the top rank among Instagram influencers even though there are no activities.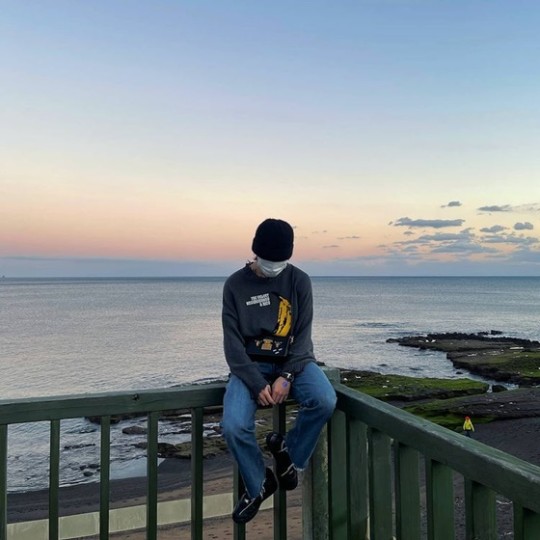 The hot response exceeded 10 million hearts in less than a day. Even now, 19 hours later, it is still showing high popularity.
Mainly, Jimin released another video of the picturesque sea scenery a few hours later. In fact, he is famous for his love for fans who want to see beautiful scenery or pretty images. So, he made them fully feel Jimin's emotions with just a calm video without much writing.
Meanwhile, BTS members are on their second long vacation after returning to Korea from their US schedule earlier this month.
Read More About: HYBE Chairman Sihyuk Bang, Selected On The US 'Variety 500' For 2 years In A Row
#btsjimin
,
agust d
,
best Kpop girl group
,
best kpop news site
,
best kpopstar
,
breaking news kpop
,
BT21
,
BTS
,
BTS Army
,
BTS BILLBOARD
,
bts butter
,
BTS fancam
,
BTS I'll Be Missing You
,
BTS J-Hope
,
bts jimin
,
bts jimin 2021
,
bts jimin cute
,
bts Jungkook
,
BTS member
,
bts member Jimin
,
BTS member V
,
BTS Members
,
BTS News
,
BTS recent news
,
BTS routine
,
BTS solo songs
,
bts suga
,
BTS trending news
,
BTS UPDATES
,
BTS V
,
BTS_JIMIN
,
daily kpop news
,
Fandom
,
Filter
,
J-hope
,
JIMIN
,
jimin bts
,
jimin campaign
,
Jimin Christmas Love
,
jimin_filter
,
jimin_serendipity
,
Jimini
,
Jiminie
,
Jin
,
JUNGKOOK
,
Korean celeb news
,
Korean singer
,
Korean singer songwriter
,
KPOP
,
Kpop album
,
Kpop beauty routine
,
Kpop boy group
,
KPOP BTS
,
kpop celebrity news
,
Kpop chart and news
,
Kpop colllaboration
,
KPOP comeback
,
Kpop current news
,
kpop daily news
,
Kpop fashion
,
Kpop girls group
,
Kpop idols
,
Kpop issues
,
Kpop latest news
,
Kpop music chart
,
Kpop news
,
Kpop news articles
,
Kpop news sites
,
kpop news update
,
Kpop recent news
,
Kpop skin care routine
,
Kpop skincare routine
,
KPop trending news
,
KPOPNEWS
,
Park Jimin
,
park jimin bts
,
permission to dance
,
RM
,
Run BTS
,
South Korean singer songwriter
,
SUGA
,
TAEHYUNG KIM
,
the best kpop girl group
,
the best kpop girl group of 2021
,
the best kpop group of 2021
,
the top kpop group
,
top kpop boy group
,
top kpop girl group
,
V
,
weverse magazine