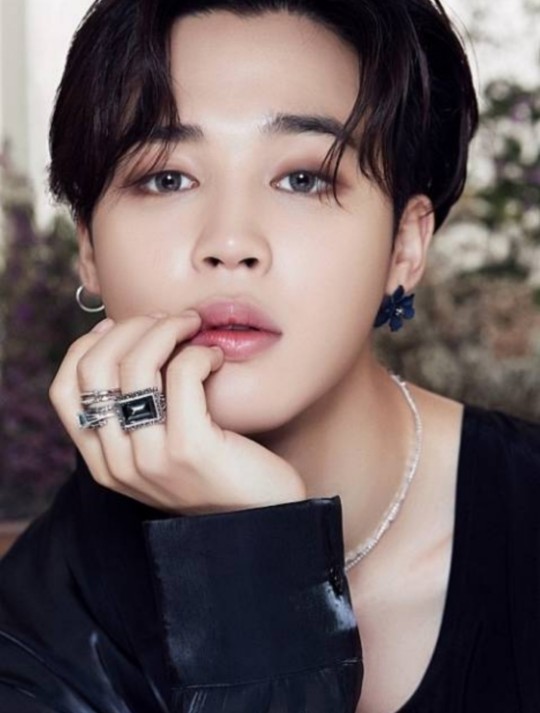 A special lighting show will take place at Busan Tower, a landmark of Busan. It is to celebrate BTS Jimin's birthday today, October 13.
BTS Jimin's large Chinese fan base 'Jimin Bar China' recently announced Jimin's 27th birthday support PART 20. LIGHT OF SETTING SUN.
They said, "On October 13, Jimin's birthday, at 8:00 pm to 10:00 pm, for two hours, the phrase 'HAPPY JIMIN DAY,' meaning celebrating Jimin's birthday, covers the entire 120m tall Busan Tower."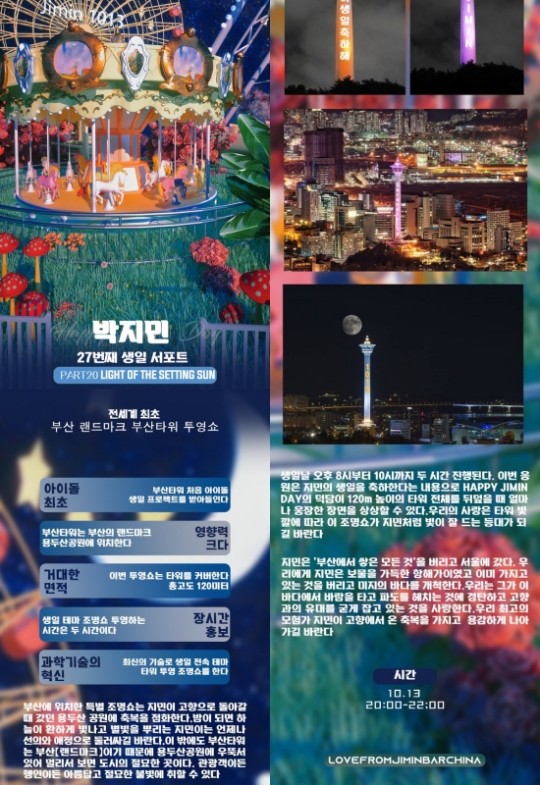 Jimin Bar China expressed their hope, saying, "We hope the light of the Busan Tower, where this lighting show takes place, will be a lighthouse that shines well like Jimin."
Also, they added, "The Busan Tower, which this project will take place, is in Yongdusan Park. It is loved by Busan citizens and tourists with a total height of 120m. We chose Yongdusan Park as it's a place where Jimin has a lot of memories in Busan."
Meanwhile, Kpop group BTS will host a concert next month.
On September 15, BTS announced on its Fan Community Platform Weverse and its official social media that the 'BTS PERMISSION TO DANCE ON STAGE' concert will take place on October 24. The concert will be through online live streaming.
Read More About: BTS Jimin's 'Filter' Took First Place In iTunes On 115 Countries
agust d
,
best Kpop girl group
,
best kpop news site
,
best kpopstar
,
breaking news kpop
,
BT21
,
BTS
,
BTS Army
,
BTS BILLBOARD
,
bts butter
,
BTS fancam
,
BTS I'll Be Missing You
,
BTS J-Hope
,
bts jimin
,
bts Jungkook
,
BTS member
,
bts member Jimin
,
BTS member V
,
BTS Members
,
BTS News
,
BTS recent news
,
BTS routine
,
BTS solo songs
,
bts suga
,
BTS trending news
,
BTS UPDATES
,
BTS V
,
daily kpop news
,
Fandom
,
Filter
,
J-hope
,
JIMIN
,
Jin
,
JUNGKOOK
,
Korean celeb news
,
Korean singer
,
Korean singer songwriter
,
KPOP
,
Kpop album
,
Kpop beauty routine
,
Kpop boy group
,
KPOP BTS
,
kpop celebrity news
,
Kpop chart and news
,
Kpop colllaboration
,
KPOP comeback
,
Kpop current news
,
kpop daily news
,
Kpop fashion
,
Kpop girls group
,
Kpop idols
,
Kpop issues
,
Kpop latest news
,
Kpop music chart
,
Kpop news
,
Kpop news articles
,
Kpop news sites
,
kpop news update
,
Kpop recent news
,
Kpop skin care routine
,
Kpop skincare routine
,
KPop trending news
,
KPOPNEWS
,
permission to dance
,
RM
,
Run BTS
,
South Korean singer songwriter
,
SUGA
,
TAEHYUNG KIM
,
the best kpop girl group
,
the best kpop girl group of 2021
,
the best kpop group of 2021
,
the top kpop group
,
top kpop boy group
,
top kpop girl group
,
V
,
weverse magazine