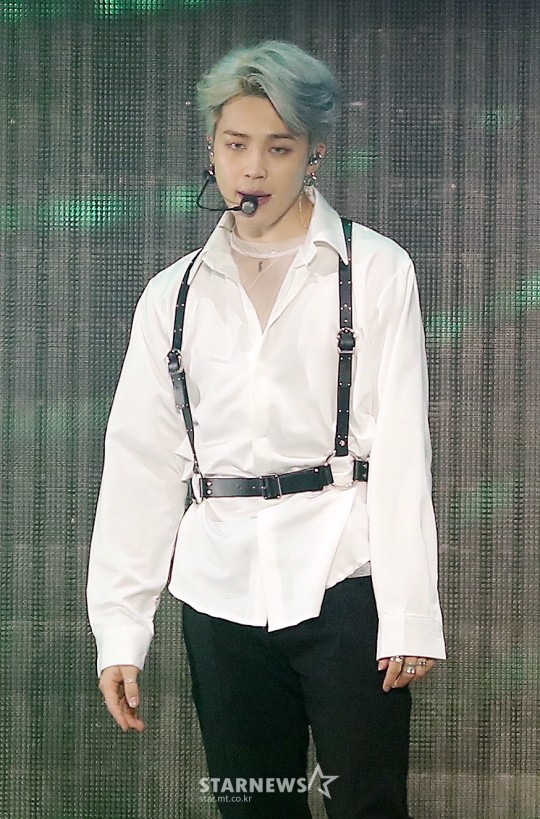 Jimin of the K-pop group BTS has maintained the top spot in the brand reputation ranking for 41 consecutive months.
The Korea Institute of Corporate Reputation announced on January 16 that BTS Jimin took place as a result of the boy group personal brand reputation index surveyed from December 15 of last year to this month.
This is the result of analyzing the brand reputation index with participation index, media index, communication index, and community index by extracting 113,481,843 brand big data of 703 individual boy groups.
BTS Jimin obtained a total brand reputation index of 7,173,347, with a participation index of 999,053, media index of 943,168, communication index of 2,543,706, and community index of 2,684,420. So, compared to the brand reputation index of 8,179,443 in December last year, it decreased by 12.34%. But, BTS Jimin still maintained the top position in the overall brand reputation ranking, proving his powerful influence.
Notably, BTS Jimin showed off his high popularity by ranking in the top three for 41 consecutive months after ranking No. 1 in the boy group's personal brand reputation index in September 2018.
Meanwhile, 2PM's Junho, who received much love for MBC's drama The Red Sleeve' topped the boy group's personal brand reputation index this month. Junho's brand had a participation index of 2,245,591, a media index of 1,117,544, a communication index of 2,287,534, a community index of 1,779,838, and a brand reputation index of 7,425,507. Third place was Daniel Kang, fourth place was BTS Jin, and fifth place was ASTRO's Eunwoo Cha.
Read More About: BTS V's OST 'Christmas Tree' Ranked First On Shazam Japan Chart!
After Midnight
,
agust d
,
astro
,
ASTRO comeback
,
Astro members
,
astro news
,
ASTRO pop-up store
,
best Kpop girl group
,
best kpop news site
,
best kpopstar
,
breaking news kpop
,
BT21
,
BTS
,
BTS Army
,
BTS BILLBOARD
,
bts butter
,
BTS fancam
,
BTS I'll Be Missing You
,
BTS J-Hope
,
bts jimin
,
bts Jungkook
,
BTS member
,
bts member Jimin
,
BTS member V
,
BTS Members
,
BTS News
,
BTS recent news
,
BTS routine
,
BTS solo songs
,
bts suga
,
BTS trending news
,
BTS UPDATES
,
BTS V
,
daily kpop news
,
Eunwoo Cha
,
Fandom
,
Filter
,
Hip-hop Idol JIN
,
J-hope
,
JIMIN
,
Jin
,
JIN news
,
Jinjin
,
JUNGKOOK
,
Korean celeb news
,
Korean singer
,
Korean singer songwriter
,
KPOP
,
Kpop album
,
Kpop Astro
,
Kpop beauty routine
,
Kpop boy group
,
KPOP BTS
,
kpop celebrity news
,
Kpop chart and news
,
Kpop colllaboration
,
KPOP comeback
,
Kpop current news
,
kpop daily news
,
Kpop fashion
,
Kpop girls group
,
kpop idol JIN
,
Kpop idols
,
Kpop issues
,
Kpop latest news
,
Kpop music chart
,
Kpop news
,
Kpop news articles
,
Kpop news sites
,
kpop news update
,
Kpop recent news
,
Kpop skin care routine
,
Kpop skincare routine
,
KPop trending news
,
KPOPNEWS
,
MJ
,
Moonbin
,
permission to dance
,
RM
,
Rocky
,
Run BTS
,
Sanha
,
Singer JIN
,
South Korean singer songwriter
,
SUGA
,
SWITCH ON
,
TAEHYUNG KIM
,
the best kpop girl group
,
the best kpop girl group of 2021
,
the best kpop group of 2021
,
the top kpop group
,
top kpop boy group
,
top kpop girl group
,
V
,
weverse magazine