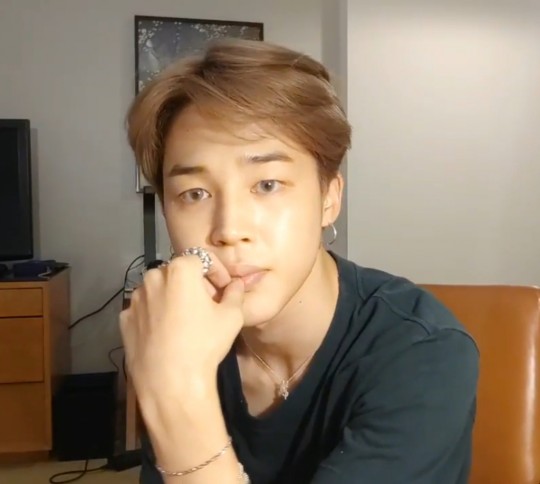 BTS Jimin is leading the Korean Ramen sensation, contributing to the best ramen export performance ever. He is taking the lead in promoting Korean culture in the world. Channel A's 'Happy Morning' show introduced the world's hot interest in Korean Ramen on May 6. It is under the theme of 'K-Ramen in its second heyday thanks to BTS Jimin.'
In fact, Economic critic Chuljin Jung appeared as a panelist. He cited 'Spicy Chicken Ramen,' which BTS Jimin frequently shows to his own content. This ramen is one of the top three export powerhouses of Korean ramen. It is now gaining sensational popularity around the world.
BTS Jimin's 'Spicy Chicken Ramen' is gaining sensational popularity even in North Korea. It was amazing to see that they released a product similar to South Korea's 'Spicy Chicken Ramen.'
As a result, the cast members admired Jimin's remarkable impact that has spread to North Korea. They also evaluated that he 'unified the tastes of the two Koreas.'
Earlier, many media outlets, including the U.S. K-pop media Allkpop and Koreaboo, mentioned the unusual increase in exports. They said, "It depends on the surge in exports of ramen to the U.S. and the power of BTS Jimin."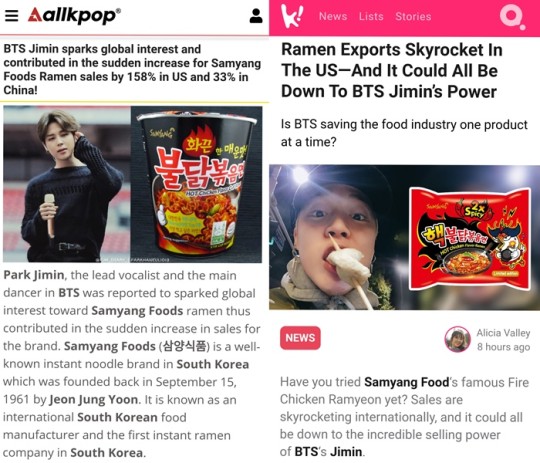 In fact, ramen recorded the highest sales record ever. As per Samyang Foods, sales of the spicy chicken ramen brand in the US and China in the first half of last year were 28 billion won and 85 billion won, respectively. Compared to the same period last year, the US increased by 243% and China by 170%.

BTS Jimin promoted Korean culture and resulted in sales, contributing to the nation's economy as an export beneficiary. In addition, it raised Korea's status as a leader in the K-food craze beyond the cultural and artistic world.
BTS Jungkook Captured Women's Hearts With His Lovely Smile
BTS Jimin 'Philippines Fandom' Opens Food Distribution Center
bts jimin
,
bts trending
,
BTS_JIMIN
,
BTSTREND
,
JIMIN
,
jimin bts
,
jimin campaign
,
Jimini
,
KPOP
,
Kpop 2021
,
Kpop artist
,
Kpop artists
,
Kpop idols
,
Kpop news
,
Kpop trending
,
KPop trending news
,
Kpop trending now
,
KPOP2021
,
Kpopall
,
KPOPIDA
,
KPOPNEWS
,
Kpopstars
,
park jimin bts
,
Trending
,
trending 2021
,
trending kpop
,
Trending Kpop news
,
trending kpop update
,
trending news
,
trending update kpop