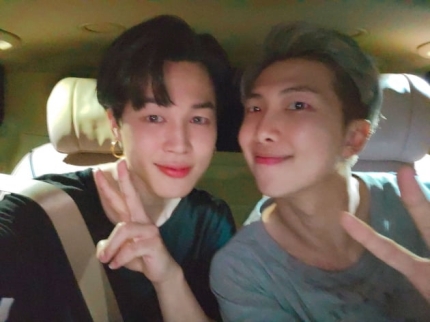 Jimin of BTS expressed his gratitude to the fans with a heartfelt thank you note.
On June 24th, Jimin released a selfie with the new song 'Butter' on the US Billboard's main single chart, 'Hot 100,' along with the hashtags #BUTTER #MINIMONI #JIMIN #RM.
In the photo, Jimin and RM are sitting next to each other in the car. They are warmly showing their friendship posing with a finger V.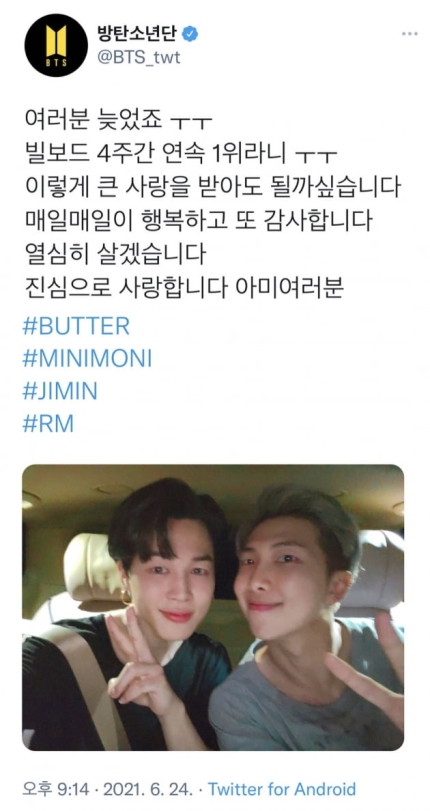 Particularly, Jimin is wearing a black top with black hair in the photo. He is becoming a hot topic every day. He showed off his excellent appearance while he couldn't believe that it was his ninth year of debut.
Jimin, famous for his fan love, is also known as 'King of Communication', 'King of Fancafe,' and ARMY's Fool' since his rookie days. He apologized, saying, "It's late, everyone. ㅜㅜ," expressing his regret for not being able to say thank you.
"Winning first place on Billboard for four consecutive weeks ㅜㅜ I wonder if I deserve this much love. I'm happy every day and thank you. I'll do my best. I love you from the bottom of my heart. ARMY." BTS Jimin said expressing his heartfelt and touching words for fans.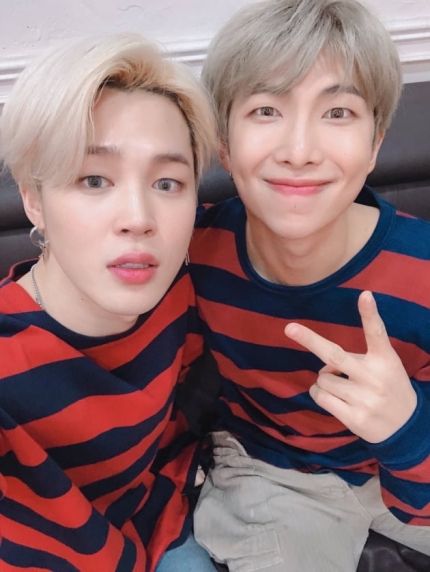 Then, after posting the thank-you note and photo, the hashtag #MINIMONI, which refers to Jimin and RM (Jimin's 'Min' and Rap Monster's 'Mon'), quickly climbed to the top of the worldwide real-time trend. It became the world's best topic, sparking the best buzz.
'Minimoni' ranked first in the US and real-time trends in Korea. Besides, 'MINIMONI' and 'Our Jimin' were also trending together, receiving a warm response from fans.
Fans responded to this, saying, "Our Jimin came to say thank you again."
"I missed you so much."
"Minimoni is so warm."
"I'm afraid that if you'll work harder than now, I'm afraid you'll ascend to the sky."
"Every time, Jimin oppa is really sincere. I am in tears and thank you."
"You are doing very well in the past and now, you can stop working hard."
Fans are sending messages of support and love to Jimin, who is always humble and willing to develop, even after becoming the world's best world star.
Previously, BTS' single 'Butter,' went straight to number one on the 'Hot 100' (June 5) chart in the first week, and maintained the top spot on the 'Hot 100' until the fourth week. This makes BTS in the Billboard's history as the only Asian singer to achieve such victory.
Read More About: TXT Collaborates With pH-1, Woodie Gochild, And Seori
2021 kpop
,
2021 kpop news
,
2021 kpop news updates
,
2021 kpop updates
,
2021 updates on kpop
,
BTS
,
BTS Army
,
bts butter
,
bts jimin
,
bts jimin 2021
,
BTS News
,
BTS songs
,
BTS today
,
bts trending
,
BTS UPDATES
,
bts_butter
,
BTS_JIMIN
,
BTSTREND
,
butter
,
Group BTS
,
JIMIN
,
jimin bts
,
KPOP
,
Kpop 2021
,
Kpop artist
,
Kpop artists
,
KPOP BTS
,
Kpop idols
,
Kpop news
,
Kpop trend
,
Kpop trending
,
KPop trending news
,
Kpop trending now
,
Kpop_BTS
,
KPOP2021
,
Kpopall
,
KPOPIDA
,
KPOPNEWS
,
park jimin bts
,
trending kpop
,
Trending Kpop news
,
trending kpop update
,
trending update kpop