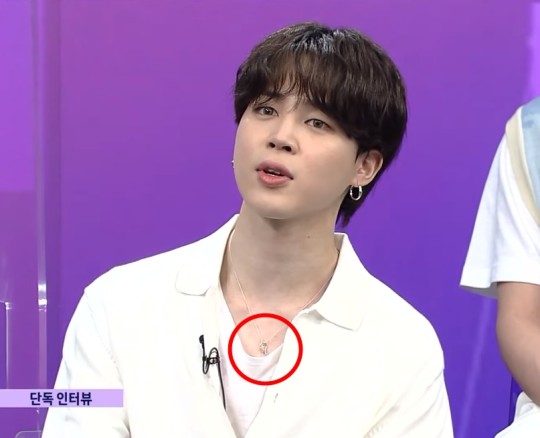 The necklace worn by BTS Jimin in a news interview received attention. His love for BTS ARMY (fandom) shines once again.
BTS appeared on SBS '8 News' on July 24th. They shared their feelings about topping the Billboard Hot 100 with 'Butter' and 'Permission to Dance. Besides, they revealed their thoughts about continuing non-face-to-face performances in a pandemic situation.
On this day, BTS Jimin was asked about 'Permission to Dance,' which was a big topic on the Billboard Hot 100. He bid a big thank you to fans and continued to talk.
What caught the viewers' attention is the necklace that Jimin is wearing at that time. He showed his love for their fan club 'ARMY' by wearing a necklace engraved with 'ARMY.'
He once again showed his love for BTS ARMY by wearing the same necklace in this interview.
Jimin's necklace is FIORE's 'Spin Balloon Heart Necklace,' engraved with 'ARMY' written in English. It is known that the price is a little over 100,000 Korean won, about 94 US dollars.
The BTS 'ARMY' necklace shining from Jimin's neck, saying, "I don't know how to express my gratitude" for the support and love of the fans, gave a glimpse of Jimin's deep love for his fans.
Read More About: BTS Jimin, Fans Longs For His 'Love Of My Life' Song Cover
2021 kpop news
,
2021 kpop news updates
,
2021 kpop updates
,
Army
,
army bts
,
BTS
,
BTS Army
,
bts jimin
,
bts jimin 2021
,
BTS News
,
BTS songs
,
BTS today
,
bts trending
,
BTS UPDATES
,
BTS_JIMIN
,
BTSTREND
,
Group BTS
,
JIMIN
,
jimin bts
,
Jimini
,
Jiminie
,
KPOP
,
Kpop 2021
,
Kpop artist
,
Kpop artists
,
KPOP BTS
,
Kpop news
,
Kpop trend
,
Kpop trending
,
KPop trending news
,
Kpop trending now
,
kpop trending update
,
Kpop_BTS
,
KPOP2021
,
KPOPIDA
,
KPOPNEWS
,
Park Jimin
,
park jimin bts
,
Trending
,
trending 2021
,
trending kpop
,
Trending Kpop news
,
trending kpop update
,
trending news
,
trending update kpop