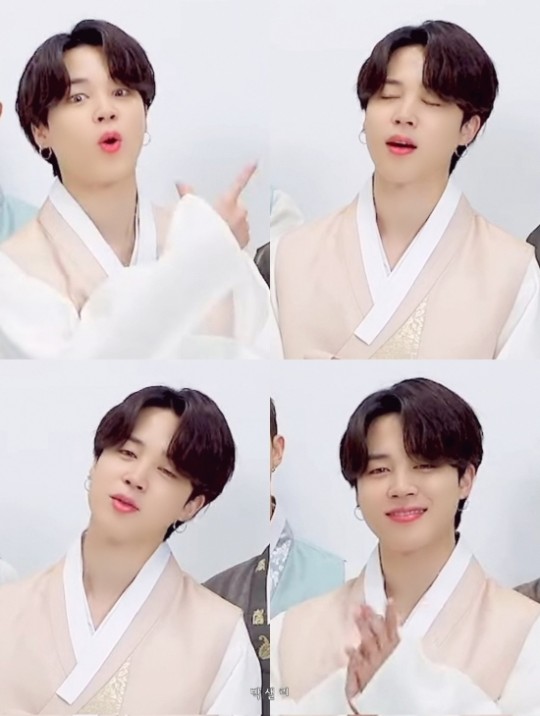 BTS Jimin delivered his Chuseok greetings in the form of a flower dressed in a hanbok.
On September 19th, BTS released a Chuseok greeting video to fans through their official social media account and YouTube channel 'BANGTANTV.'
BTS started talking about their wishes for Chuseok. The members name the member next to them and wish each other's wishes come true. In the end, 'ARMY's wish to come true' was their final wish, and ended the video warmly.
BTS Jimin showed off his stylish and elegant aristocratic appearance. He is wearing a hanbok that goes well with his clean and white skin.
Jimin has emerged as a muse for many artists due to his mysterious appearance that usually possesses both Eastern and Western aesthetics. He perfectly digests even the hanbok and makes fans' hearts flutter with the appearance of a prestigious flower master.
Jimin with a bright smile once again made fans' hearts flutter with a friendly message full of longing. He said, "Even if it's a little uncomfortable and hard, I'll always wait for the day to be with ARMY."
In response, fans praised, "My wish is to marry Jimin," "A male idol who looks so good in hanbok," "Your smile is brighter than the full moon," "Isn't it a prince figure?" "Jimin looks good in any color," and "True flower beauty."
Read More About: BTS V Ranks First As A Star Who As Likely To Make A Beautiful Songpyeon (Traditional Korean Food)
2021 kpop news
,
2021 kpop updates
,
BTS
,
BTS Army
,
bts butter
,
bts jimin
,
bts jimin 2021
,
bts Jungkook 2021
,
BTS News
,
BTS songs
,
BTS today
,
bts trending
,
BTS UPDATES
,
BTS V
,
bts_butter
,
BTS_JIMIN
,
BTSTREND
,
Group BTS
,
jimin bts
,
KPOP
,
Kpop 2021
,
Kpop artist
,
Kpop artists
,
KPOP BTS
,
Kpop idols
,
Kpop news
,
Kpop trend
,
Kpop trending
,
KPop trending news
,
Kpop trending now
,
kpop trending update
,
Kpop_BTS
,
KPOP2021
,
Kpopall
,
KPOPIDA
,
KPOPNEWS
,
park jimin bts
,
Trending
,
trending 2021
,
trending kpop
,
Trending Kpop news
,
trending kpop update
,
trending news
,
trending update kpop