BTS Jimin is receiving a lot of love from fans for sharing sweet memories through his happy trip.
On the morning of January 6, when Jimin shared travel photos on the official fan community Weverse, 'happy comments' from fans followed.
Fans responded such as 'Thank you for sharing the memories of a happy trip,' 'The way you stand is a work of art,' 'The person who makes you feel warm even in the winter sea,' 'I want to go to Jeju Island because of Jimin,' and 'Look at the bright boy's smile.'
In the photo released with a smiling emoticon, Jimin wears a black beanie, oversized glasses, and a long coat with the winter sea in the background. Lovely Jimin showed off his unique charm.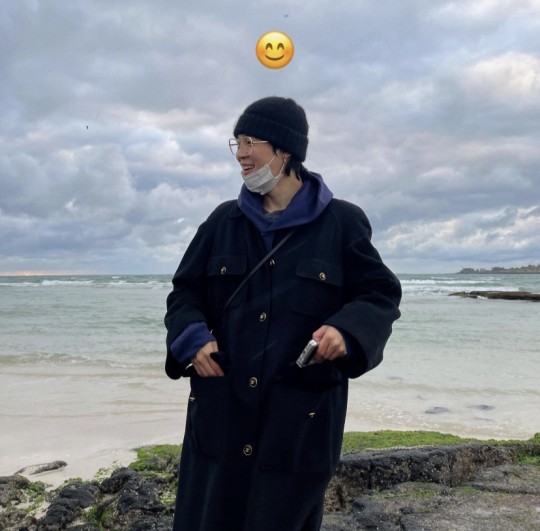 The low cloud-covered sky, the gentle white waves seen behind Jimin, and his innocent smile are reminiscent of a watercolor painting that exudes the spirit of winter, giving fans another piece of art.
BTS Jimin, who shared photos for each travel destination through his second vacation, shared the sweetness and memories of the trip with his fans, illuminating his fan love aspect.
Read More About: BTS, IU, and Youngwoong Lim Topped The 2021 Gaon's Annual Charts!
agust d
,
best Kpop girl group
,
best kpop news site
,
best kpopstar
,
breaking news kpop
,
BT21
,
BTS
,
BTS Army
,
BTS BILLBOARD
,
bts butter
,
BTS fancam
,
BTS I'll Be Missing You
,
BTS J-Hope
,
bts jimin
,
bts Jungkook
,
BTS member
,
bts member Jimin
,
BTS member V
,
BTS Members
,
BTS News
,
BTS recent news
,
BTS routine
,
BTS solo songs
,
bts suga
,
BTS trending news
,
BTS UPDATES
,
BTS V
,
daily kpop news
,
Fandom
,
Filter
,
J-hope
,
JIMIN
,
Jin
,
JUNGKOOK
,
Korean celeb news
,
Korean singer
,
Korean singer songwriter
,
KPOP
,
Kpop album
,
Kpop beauty routine
,
Kpop boy group
,
KPOP BTS
,
kpop celebrity news
,
Kpop chart and news
,
Kpop colllaboration
,
KPOP comeback
,
Kpop current news
,
kpop daily news
,
Kpop fashion
,
Kpop girls group
,
Kpop idols
,
Kpop issues
,
Kpop latest news
,
Kpop music chart
,
Kpop news
,
Kpop news articles
,
Kpop news sites
,
kpop news update
,
Kpop recent news
,
Kpop skin care routine
,
Kpop skincare routine
,
KPop trending news
,
KPOPNEWS
,
permission to dance
,
RM
,
Run BTS
,
South Korean singer songwriter
,
SUGA
,
TAEHYUNG KIM
,
the best kpop girl group
,
the best kpop girl group of 2021
,
the best kpop group of 2021
,
the top kpop group
,
top kpop boy group
,
top kpop girl group
,
V
,
weverse magazine