BTS Jimin captivates fans with a Minimoni (Jimin + Namjoon) photo uploaded on their official social media.

On September 13th, BTS Jimin posted on Twitter, saying, 'Every day you exist is your birthday' along with the hashtag, #JIMIN #RM #Monihappybirthday. This is Jimin's way of celebrating RM's birthday, the leader of BTS.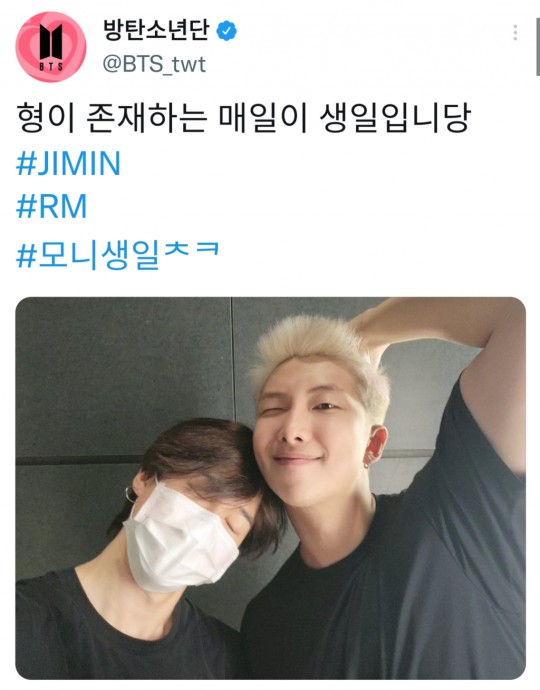 Jimin and RM are usually called 'minimoni' by other members. In the published photo, the two wore a black t-shirt with a warm smile, showing off a simple pure charm.

Particularly, they showed friendly poses with their heads together. So, it is receiving enthusiastic responses from fans, and minimoni photos lined up on social media.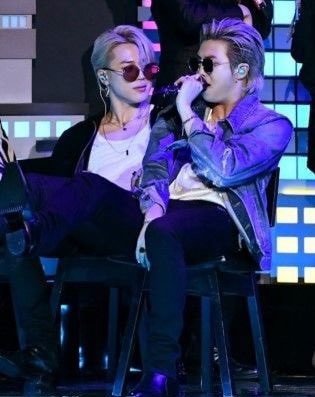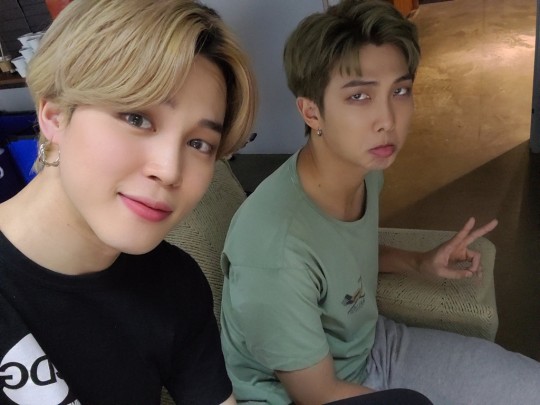 Therefore, fans responded with hot reactions such as:
"Minimoni Two-Shot Too Warm."
"Minimoni's Selfie is too good after a long time."
"Truly a leader and Young Jimin."
"I Want to See them with Taehyung together again."
As a result, it led to the Korean Twitter real-time trends.



Read More About: BTS Jungkook Shines In The Seoul Tourism Campaign Video
agust d
,
best Kpop girl group
,
best kpop news site
,
best kpopstar
,
breaking news kpop
,
BT21
,
BTS
,
BTS Army
,
BTS BILLBOARD
,
bts butter
,
BTS fancam
,
BTS I'll Be Missing You
,
BTS J-Hope
,
bts jimin
,
bts Jungkook
,
BTS member
,
bts member Jimin
,
BTS member V
,
BTS Members
,
BTS News
,
BTS recent news
,
BTS routine
,
BTS solo songs
,
bts suga
,
BTS trending news
,
BTS UPDATES
,
BTS V
,
daily kpop news
,
Fandom
,
Filter
,
J-hope
,
JIMIN
,
Jin
,
JUNGKOOK
,
Korean celeb news
,
Korean singer
,
Korean singer songwriter
,
KPOP
,
Kpop album
,
Kpop beauty routine
,
Kpop boy group
,
KPOP BTS
,
kpop celebrity news
,
Kpop chart and news
,
Kpop colllaboration
,
KPOP comeback
,
Kpop current news
,
kpop daily news
,
Kpop fashion
,
Kpop girls group
,
Kpop idols
,
Kpop issues
,
Kpop latest news
,
Kpop music chart
,
Kpop news
,
Kpop news articles
,
Kpop news sites
,
kpop news update
,
Kpop recent news
,
Kpop skin care routine
,
Kpop skincare routine
,
KPop trending news
,
KPOPNEWS
,
permission to dance
,
RM
,
Run BTS
,
South Korean singer songwriter
,
SUGA
,
TAEHYUNG KIM
,
the best kpop girl group
,
the best kpop girl group of 2021
,
the best kpop group of 2021
,
the top kpop group
,
top kpop boy group
,
top kpop girl group
,
V
,
weverse magazine