BTS Jimin captured global women's hearts with his colorful charm.
BTS released Jimin's concept photo of their new song 'Butter' on May 14.
Jimin attracted attention as he is like the 'Rainbow Jimin' and 'Unicorn Jimin' in the group photo released earlier. He caught the attention of fans by appearing in rainbow-colored hair.

Jimin, wearing a dandy gray suit, an all-back hairstyle, and oversized teen sunglasses, shook women's hearts. He is looking at the side with his hand in his pocket. BTS Jimin, who has perfected all styles, showed off a handsome and sexy aura in this photo.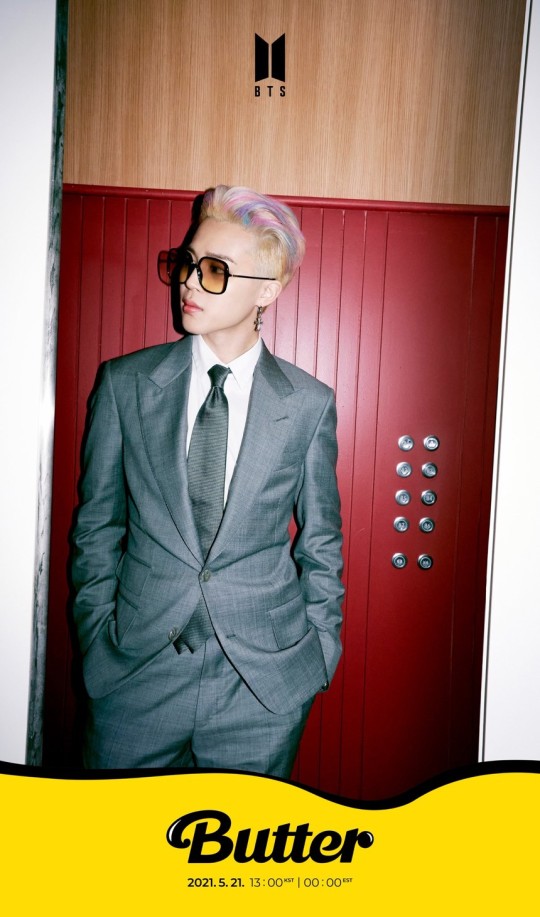 After the release of BTS Jimin's photo, it garnered a lot of attention around the world. It raised second place in 'Park Jimin' on real-time trends worldwide, ranking after #ButterTeaser4.
In less than 19 minutes after its release, it has recorded a maximum of 1 million hearts. It only shows his surprising popularity in more than 35 countries, including the United States, India, Germany, France, and Australia. Also, it has more than 45 keywords such as 'THE JIMIN' and 'RAINBOW JIMIN.'
Particularly, 'JIMIN' and 'JIMIN JIMIN' each have more than 1 million mentions. According to Google, the search rate for Jimin's name in global, especially to US, UK, and Korean search engines, rose to 100%.
BTS Jimin also heated up the archipelago, ranking first in the Japanese celebrity ranking Twipple, and ranking third on the Japanese Tsuiran chart.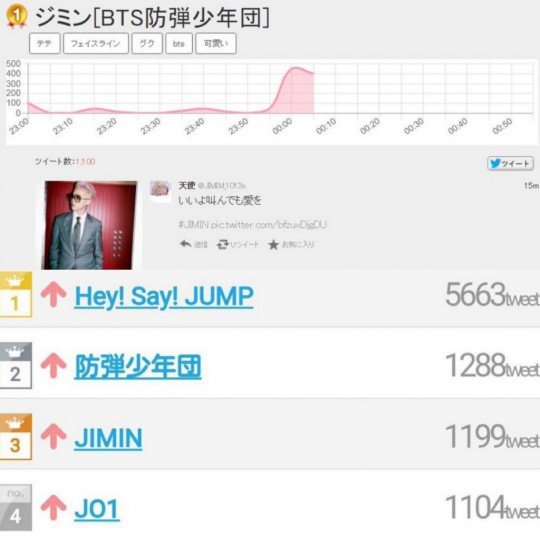 Official accounts and celebrities around the world were also enthusiastic. It was featured in 'Paper Magazine,' 'MTV UK,' 'Amazon Music,' 'World Music Awards,' radio channel 'Y100 Miami,' and 'AK Praismedia, which deals with news and entertainment.
BTS will simultaneously release a new digital single, 'Butter,' worldwide at 1 pm on May 21st. In addition, BTS will participate in the 'American Billboard Music Awards' that will take place on the 24th of May. BTS has been one of the performers for 4 consecutive years and will unveil their new song for the first time.
Read More About: BTS J-Hope, Jimin, And V, 3-Color 'Butter' Teaser
2021 kpop news
,
2021 kpop updates
,
AOA Jimin
,
bts jimin
,
bts jimin 2021
,
bts jimin cute
,
BTS News
,
BTS today
,
bts trending
,
BTS UPDATES
,
BTS_JIMIN
,
JIMIN
,
jimin bts
,
jimin campaign
,
Jimini
,
Jiminie
,
Kpop 2021
,
Kpop artist
,
Kpop news
,
Kpop trending
,
KPop trending news
,
KPOP2021
,
KPOPIDA
,
KPOPNEWS
,
trending 2021
,
trending update kpop