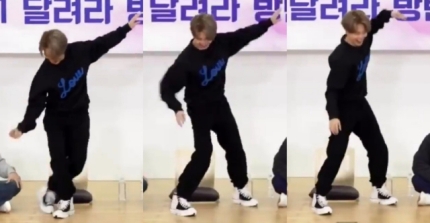 BTS Jimin catches viewers' attention as he is the main dancer in the team 'Run BTS.' His handsome appearance really stands out.
On March 23rd, BTS' own entertainment 'Run BTS! 2021-EP. 134', the sequel to the member's training seminar, was broadcasted following last week. The BTS members appeared, which really excites the viewers.
BTS Jimin ranked first in 'Search King' with his smart strategy last week. It caught the eye of the viewers with his excellent observational power. He infers the correct answer with point choreography in this week's 'Guess My Dance' game.
In the 'Text Dance,' Jimin showed his amazing imagination and accurately caught the point choreography of 'I Need You.' Also, he showed off a sexy wave with his extraordinary flexibility.
Particularly, BTS Jimin showed a movement of the choreography of his solo song 'Serendipity.' On the stage, Jimin said that it is similar to the choreography movement that came out as a problem on 'Guess My Dance' during its broadcast.
BTS Jimin's beautiful dance line was well revealed even he is wearing active training clothes. It was a short moment, but it attracted fans at once.
Accordingly, the fans said, 'I'm watching Serendipity's choreography in the Dalbang.'
I'm sure the main dancer is different.'
'I'm going to see the choreography practice video I saw today.'
'I want to go to see the performance myself after seeing the dance.'
'I have really good observation skills.'
These are followed by various fans' reactions, such as 'Kangyang, a genius who can't do anything.'
Earlier, on March 7th, aired the 'Run! BTS' 132nd episode, in which the members became moderators and debaters. Jimin showed off his leadership skills.