Kpop group BTS member Jimin proved his reputation as 'Jimerica (Jimin+America)' and evaluated the 2021 American Music Awards (2021 AMAs) with explosive reactions from fans starting from the red carpet.
BTS attended the 2021 AMAs held at the Microsoft Theater in Los Angeles on November 22 (KST). They performed 'My Universe,' a collaborative song with Coldplay, and 'Butter.'
Billboard News host Tetris Kelly and other hosts in charge of the on-site broadcast mentioned Jimin exclusively. They expressed expectations and excitement about his new-styled hair, vocals, and moments. So, it only proves BTS Jimin being at the center of the topic at the AMAs.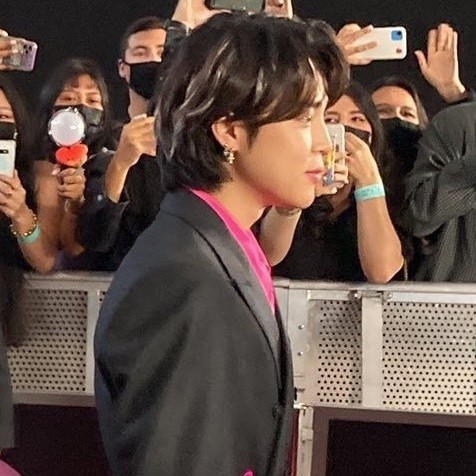 Prior to the awards ceremony, Jimin conducted a red carpet interview. He caught the eyes of the fans with his dazzling presence by presenting a point styling of a hot pink shirt that highlights smoothness. His white skin in an all-black Louis Vuitton suit with a 27-inch slim waist gains much attention.
BTS Jimin's perfect physicality that fantasizes the red carpet look, mysterious handsome charm, and elegant etiquette as a superstar kept fans shouting 'JIMIN, JIMIN.'
It was definitely a hot topic to the extent that search terms such as 'guy in pink shirt' and 'guy in the pink shirt' appeared on Twitter. It is due to the keen interest of the public to BTS Jimin.
At the start of the awards ceremony, BTS Jimin enthusiastically attracted fans with his unique voice, high pitch, and genius performer-like stage manners on the 'My Universe' performance. He enjoyed the free atmosphere like a festival, and once again heated up his fan love through the 'Butter' performance.
Particularly, Jimin's 1 minute and 11 seconds part, called the killing part of 'Butter,' and the 'Dance Break,' were completely revealed by bright stage lights. It decorates the finale of the '2021 American Music Awards.'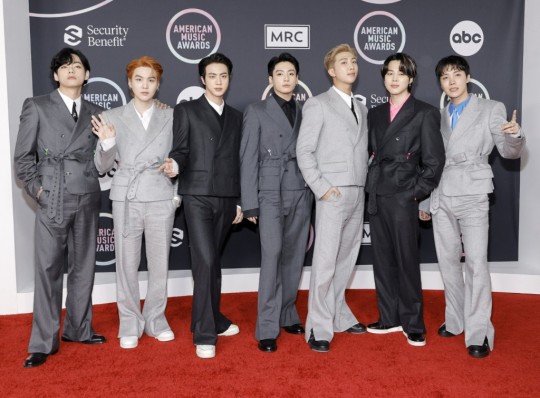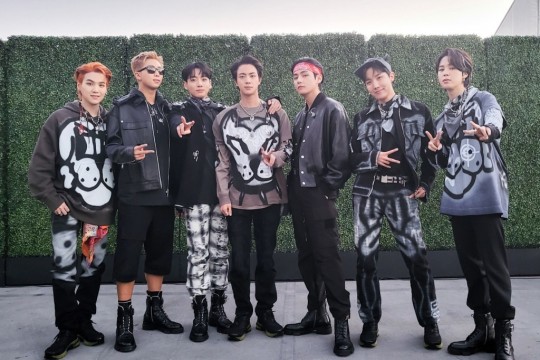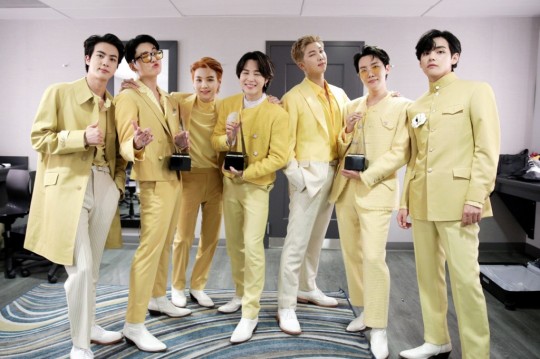 BTS Jimin dominates Twitter even though his name disappeared from Twitter's real-time trend with many common references as usual.
'JIMIN JIMIN,' which replaced #JIMIN, surpassed 335,900 within an hour of the awards ceremony. It has an amazing mention of 2 million.
In addition, 'Jimin,' 'Park Jimin,' 'Jimins,' and 'Jiminie' when combined reached more than 2.5 million references. Also, it reached 9.1 million practical participation proving Jimin's popularity beyond imagination.
Also, it led to three worldwide trends and 43 trends. 'Jimin' and 'Park Jimin' reached 100% several times on YouTube searches around the world. Then, 'Jimin amas,' 'Jimin news photo,' and 'Jimin amas 2021' became seven popular keywords on Facebook, and 'Jiminas' reached 97,000.
Meanwhile, BTS, to which Jimin belongs, won a total of three awards at the 2021 American Music Awards. It includes the 'Favorite Pop Duo/Group,' 'Favorite Pop Song/Butter,' and 'Artist of the Year.'
Read More About: BTS Became The 'First Asian' To Win 'Artist Of The Year' At The '2021 American Music Awards'
agust d
,
best Kpop girl group
,
best kpop news site
,
best kpopstar
,
breaking news kpop
,
BT21
,
BTS
,
BTS Army
,
BTS BILLBOARD
,
bts butter
,
BTS fancam
,
BTS I'll Be Missing You
,
BTS J-Hope
,
bts jimin
,
bts Jungkook
,
BTS member
,
bts member Jimin
,
BTS member V
,
BTS Members
,
BTS News
,
BTS recent news
,
BTS routine
,
BTS solo songs
,
bts suga
,
BTS trending news
,
BTS UPDATES
,
BTS V
,
daily kpop news
,
Fandom
,
Filter
,
J-hope
,
JIMIN
,
Jin
,
JUNGKOOK
,
Korean celeb news
,
Korean singer
,
Korean singer songwriter
,
KPOP
,
Kpop album
,
Kpop beauty routine
,
Kpop boy group
,
KPOP BTS
,
kpop celebrity news
,
Kpop chart and news
,
Kpop colllaboration
,
KPOP comeback
,
Kpop current news
,
kpop daily news
,
Kpop fashion
,
Kpop girls group
,
Kpop idols
,
Kpop issues
,
Kpop latest news
,
Kpop music chart
,
Kpop news
,
Kpop news articles
,
Kpop news sites
,
kpop news update
,
Kpop recent news
,
Kpop skin care routine
,
Kpop skincare routine
,
KPop trending news
,
KPOPNEWS
,
permission to dance
,
RM
,
Run BTS
,
South Korean singer songwriter
,
SUGA
,
TAEHYUNG KIM
,
the best kpop girl group
,
the best kpop girl group of 2021
,
the best kpop group of 2021
,
the top kpop group
,
top kpop boy group
,
top kpop girl group
,
V
,
weverse magazine