'Friends' is a song written and composed by BTS Jimin. For the first time, he produced the song and now surpassed 100 million streams on Spotify, the world's largest music platform.
On May 15th, BTS Jimin's first production song, 'Friends,' exceeded 100 million streams and ranked 59th among all BTS songs. The song achieved 100 million streaming, showing high popularity.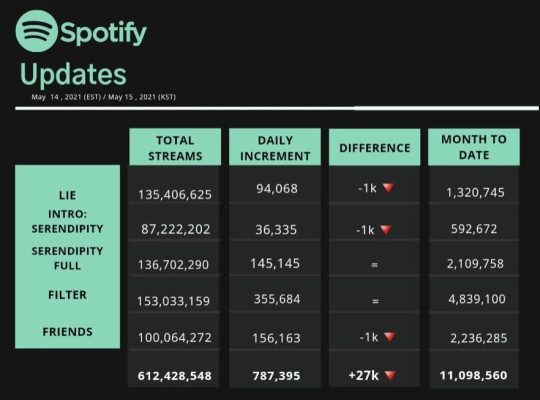 In fact, BTS Jimin and V, born in 1995, sung the song, 'Friends.'
It is from the BTS album 'MAP OF THE SOUL: 7,' released in February 2020. Since its release, many music fans have loved it. In fact, it surpassed 100 million Gaon digital points in more than 40 days since its release. Also, it sets a milestone of 261 million digital points in a year.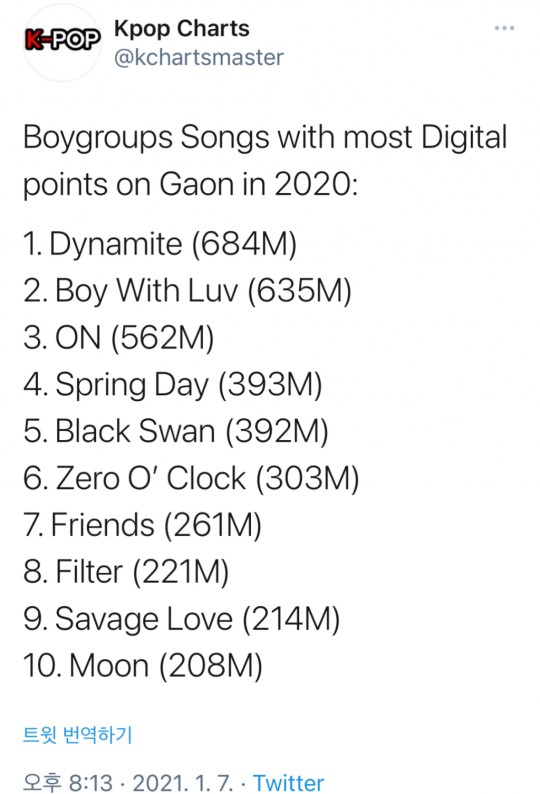 At the '2021 Gaon Music Awards' held in January, BTS Jimin's solo songs 'Filter' and 'Friends' are nominees for the music award. It only proves its hot popularity and excellent production skills.
In fact, Japanese fans greatly loved the song 'Friends.' In fact, immediately after its release, it ranked highest among all the songs in the 4th album, following the title song 'ON' on both the Billboard Japan 'Hot 100' single chart and streaming song chart. In Japan's line music 'Hot 100' chart, it took second place overall after 'ON' and received enthusiastic love from music fans.
'Friends' has shown its potential to rise to No. 1 in 51 iTunes regions worldwide. Also, many overseas radio stations, including the United States, are constantly playing the song. In short, many listeners around the world loved Jimin's song.
As of now, BTS is raising expectations for their new song. It is by releasing all individual teaser photos for each member ahead of the release of the new single album 'Butter' on May 21st.
Read More About: BTS, From Billboard Awards To US Sitcom 'Friends'
2021 kpop news
,
2021 kpop updates
,
BTS
,
BTS Army
,
bts jimin
,
bts jimin 2021
,
BTS News
,
BTS today
,
BTS UPDATES
,
BTS_JIMIN
,
BTSTREND
,
JIMIN
,
jimin bts
,
jimin kpop
,
jimin_filter
,
jimin_friends
,
Jimini
,
Jiminie
,
KPOP
,
Kpop 2021
,
Kpop artist
,
Kpop artists
,
Kpop idols
,
Kpop news
,
Kpop trend
,
Kpop trending
,
KPop trending news
,
Kpop trending now
,
KPOP2021
,
Kpopall
,
KPOPIDA
,
KPOPNEWS
,
park jimin bts
,
trending kpop
,
Trending Kpop news
,
trending kpop update
,
trending update kpop