Kpop group BTS member Jimin's self-composed song 'Christmas love' has proven its popularity. It surpassed 35 million YouTube views.
'Christmas Love' achieved 35 million views on YouTube's official audio video on August 21st (KST). 'Christmas Love' showed that music fans loved this song as a representative healing song rather than a simple season song.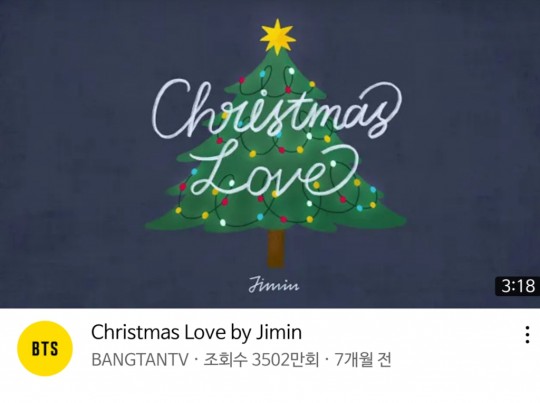 BTS Jimin released 'Christmas Love' for free on Christmas Eve last year as a surprise gift for fans.
The vocals, lyrics, and melodies that made the hearts of ARMY fans around the world fluttered deeply moved them. In fact, BTS Jimin was the only Kpop idol who earned the nickname 'Secret Santa' by Radio.com in the United States. So, he is attracting a lot of attention at the end of last year.
In fact, 'Christmas Love' recorded more than 9.55 million views on YouTube within 24 hours of its release. So, it became the second most trending worldwide in the YouTube music category and trending in 53 countries.
A song with Korean lyrics includes the term, 'Sobok Sobok (falling falling),' a beautiful expression unique to the Korean Language. So, it has become a hot topic among overseas fans. Jimin's solo song became popular in just a week after being released on Genius, the world's largest music knowledge-sharing site. Also, it set a record for number one.
BTS Jimin completed 'Christmas Love,' with his trendy and unique tone, sensuous and beautiful lyrics, and popular melody. It is a new self-composed song that contains Jimin's musical capabilities. It levels to Jimin's 'Promise,' the world's second most-viewed song on SoundCloud, and 'Friend,' his first produced song.
▶Christmas Love by Jimin, BANGTANTV
Meanwhile, Jimin's 'Christmas Love' is also popular on SoundCloud, the world's largest music-sharing platform. It is recording 33.9 million streams as of August 21st.
Read More About: BTS Jimin, 'Permission To Dance' Choreography Increases BTS Followers On TikTok
2021 kpop news
,
2021 kpop updates
,
BTS
,
BTS Army
,
bts jimin
,
bts jimin 2021
,
BTS News
,
BTS songs
,
BTS today
,
bts trending
,
BTS UPDATES
,
BTS_JIMIN
,
BTSTREND
,
Group BTS
,
JIMIN
,
jimin bts
,
Jimin Christmas Love
,
jimin_filter
,
jimin_serendipity
,
KPOP
,
Kpop 2021
,
Kpop artist
,
Kpop artists
,
KPOP BTS
,
Kpop idols
,
Kpop news
,
Kpop trend
,
Kpop trending
,
KPop trending news
,
Kpop trending now
,
Kpop_BTS
,
KPOP2021
,
Kpopall
,
KPOPIDA
,
KPOPNEWS
,
Park Jimin
,
park jimin bts
,
trending kpop
,
Trending Kpop news
,
trending kpop update
,
trending update kpop