On the 6th of May, Coway (home care company), which BTS is the brand endorser, released a behind-the-scenes video of a water purifier advertisement on its official YouTube channel. In the released video, BTS Jimin is wearing black slacks and a white shirt. His hair is styled, covering his forehead.
He made the fans thrilled with excitement as he stares at the camera.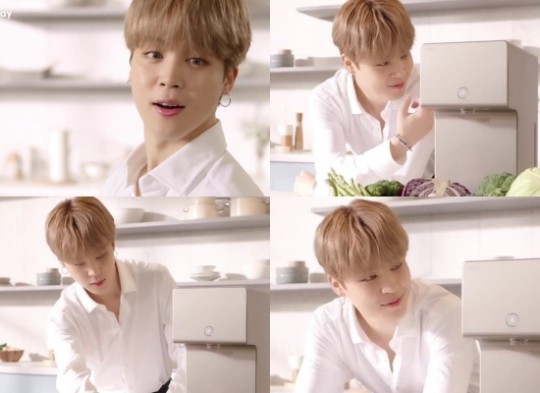 BTS Jimin is trying to make various facial expressions and gestures for the best cut of the first scene line, "Welcome."
He made the fans happy with his lovely charm.
BTS Jimin explains the characteristics of the water purifier. His soft, sweet, tender voice and excellent acting captivated both eyes and ears of the fans at once.
Particularly, Jimin's mischievous appearance, which was shown in the middle of the filming, was even more attracting.
BTS Jimin exchanged jokes with the members without hesitation while they are taking a break.
He led the atmosphere of the filming site with his pleasant energy throughout, so he earned the nickname, "BTS's mischievous Jimin."
Fans who watched the commercial behind-the-scenes responded,
"My heart thump!"
"The commercial behind-the-scenes is funnier than the drama."
"Even the behind-the-scenes can be this sweet."
"Sleeping prince"
"I want the sofa where Jimin is lying down."
Read More About: BTS Jin, RM, And J-Hope, The "Three Nodal Brothers"
BTS
,
bts jimin
,
bts jimin 2021
,
BTS News
,
BTS today
,
BTS UPDATES
,
BTS_JIMIN
,
BTSTREND
,
Group BTS
,
JIMIN
,
jimin bts
,
KPOP
,
Kpop 2021
,
Kpop artist
,
Kpop artists
,
KPOP BTS
,
Kpop news
,
Kpop trending
,
KPop trending news
,
Kpop_BTS
,
KPOP2021
,
Kpopall
,
KPOPIDA
,
KPOPNEWS
,
park jimin bts
,
Trending
,
trending 2021
,
trending kpop
,
Trending Kpop news
,
trending kpop update
,
trending news
,
trending update kpop