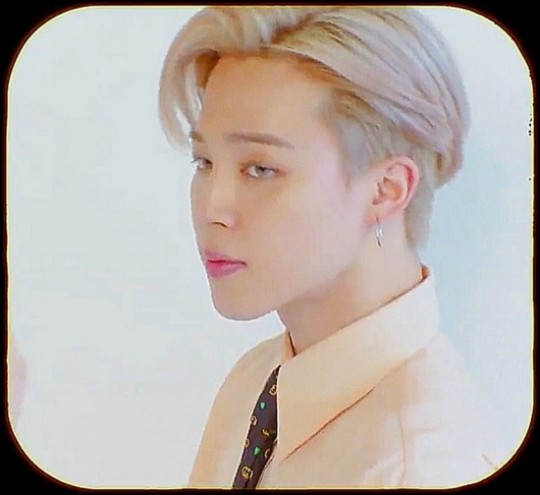 BTS Jimin captured the hearts of fans with his male-god charm.
On August 5th, BTS released a film reel shooting sketch video of the members through the official HYBE Merch Twitter account.
BTS Jimin boasted a luxurious and aristocratic masculine look with golden hair of a so-called 'half-haired hairstyle.' His yellow shirt and tie styling of the luxury brand Gucci really suit his built, which attracted the attention of fans.
BTS Jimin also exuded his sexiness in his playful figure blowing bubble gum.
In addition, his colorful charm shook the hearts of fans. His charm that changes every minute, with a lovely smile with both eyes closed, is really impressive.
Meanwhile, Kpop group BTS topped the idol chart Acha Rankings for the 4th week of July.
In the idol chart released on August 7th, in the 4th week of July (21.7.30~21.8.5) Acha Ranking, BTS took first place with a total score of 13,176 points. It includes 1502 music scores, 9756 YouTube scores, and 1908 social scores.
Following US Billboard, BTS once again proved their global popularity by lining up 'Butter' and 'Permission to Dance' on the Oricon weekly streaming charts in Japan for 4 weeks in a row.
After 'Butter' ranked first and 'Permission to Dance' ranked second on the July 19th chart, 'Permission to Dance' took first place and 'Butter' took second place for three weeks in a row.
Read More About: BTS Jimin '#Jimin' Surpassed 63 Million; The Most Hashtagged Person
BTS
,
bts jimin
,
bts jimin 2021
,
BTS News
,
BTS today
,
bts trending
,
BTS UPDATES
,
BTS_JIMIN
,
BTSTREND
,
Group BTS
,
JIMIN
,
jimin bts
,
jimin_serendipity
,
KPOP
,
Kpop artist
,
Kpop artists
,
KPOP BTS
,
Kpop idols
,
Kpop news
,
Kpop trend
,
Kpop trending
,
KPop trending news
,
Kpop trending now
,
kpop trending update
,
Kpop_BTS
,
KPOP2021
,
KPOPIDA
,
KPOPNEWS
,
Park Jimin
,
park jimin bts
,
Trending
,
trending kpop
,
Trending Kpop news
,
trending kpop update
,
trending news
,
trending update kpop