An example of BTS J-Hope's expression of hope, as his name suggests, is known.
On May 15th, on Twitter, a video of Sydney Fowler, who gave a Salutatorian's speech at the graduation ceremony of Young Americans Christian School in the United States, was posted. It contains the hardships and overcoming process of spending a year completely different from the expected school life due to the pandemic.
Sydney Fowler's mother, who uploaded the video, introduced the speech as 'Hope World." It has the same as the title of J-Hope's solo mixtape released in 2018.
The speech began with a story related to 'Hope World.' 
In July of last year, Sydney Fowler said that she painted the art cover of 'Hope World' on the parking space of the school given to high school senior students. She did it because it was colorful, whimsical, and fun. At that time, she said she is full of hope that the Covid-19 virus would soon disappear. So, she can return to the usual routine of playing bands and archery.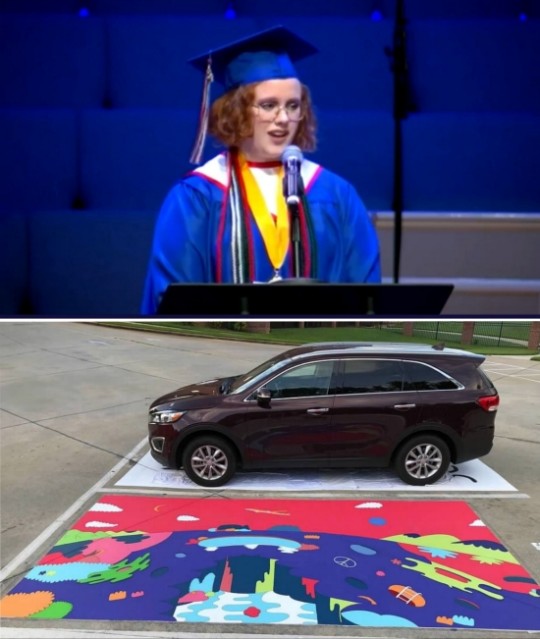 However, she said,  "I lost hope after the virus spread further, and I decided to take online classes. The American football season has just passed, and I couldn't eat my grandparents' Thanksgiving pie. Also, we need to cancel my trip to Seoul, Korea, to celebrate my 18th birthday. I had to watch church services online," she recalled.
However, the hope did not disappear completely, she said, because of what Hoseok Jung (J-Hope's real name) said. "There are times in your life when you wonder if your major or career decision is right or doing well," J-Hope said in a speech at the 'Dear Class of 2020,' a virtual graduation ceremony held by YouTube in June of last year. In that case, Sydney Fowler said, "I must not forget that I am the one who leads my life."
"I remembered that I am the leader of my life. I have the right to decide. And, I have the power to find new sources of hope," Sydney Fowler quoted J-Hope's saying. She then introduced her efforts to overcome difficult situations. "I played the piano, drew pictures, and opened an online shop. It was not my usual senior life, but I made my senior life of myself," she said.
"I couldn't use the 'Hope World' parking lot, but I am with the 'Hope World' every day. Hope did not disappear. I am hopeful of becoming an adult and becoming independent upon entering college. I hope that scientists will overcome the virus so we can return to normal life."
"Last year was so different from what we wanted. We didn't enjoy what we had to enjoy fairly," Sydney Fowler said. For forensic and physics projects, people who took online classes had to submit their assignments and overcome Internet access problems and noise at home. It is like we are forgotten like invisible people. But we have overcome everything that the virus has done in our lives and celebrated a day like this," she said.
Finally, she inspired hope and courage, saying, "We will do anything in the future, just as we successfully overcame last year."
BTS fans around the world who watched the video are sending support and encouragement through hundreds of comments. BTS will release the new song 'Butter' on May 21st.
Read More About: BTS X Queen Collaboration Hints For New song 'Butter'
2021 kpop news
,
2021 kpop updates
,
BTS
,
BTS Army
,
BTS J-Hope
,
BTS News
,
BTS today
,
BTS UPDATES
,
BTSTREND
,
HOPE WORLD
,
J-hope
,
KPOP
,
Kpop 2021
,
Kpop artist
,
Kpop artists
,
KPOP BTS
,
Kpop idols
,
Kpop news
,
Kpop trend
,
Kpop trending
,
KPop trending news
,
Kpop trending now
,
kpop trending update
,
Kpop_BTS
,
KPOP2021
,
Kpopall
,
KPOPIDA
,
KPOPNEWS
,
trending kpop
,
Trending Kpop news
,
trending kpop update