Celebrating BTS J-hope's birthday (February 18), the US Billboard reported in detail the celebrations from fans worldwide.

In the published article on February 16, Billboard described J-Hope's birthday as Hope Day. The media said, "It is a great day to donate to support marginalized children, the environment, and abused animals and to pour advertising gifts from Kyrgyzstan to Seoul, China, and New York."

Billboard introduced about 10 "creative event gifts, Citing fans' social media posts."

Billboard first introduced the J-Hope character ice sculpture made by Ukrainian fans. It is accompanied by a video featuring colorful disco lights.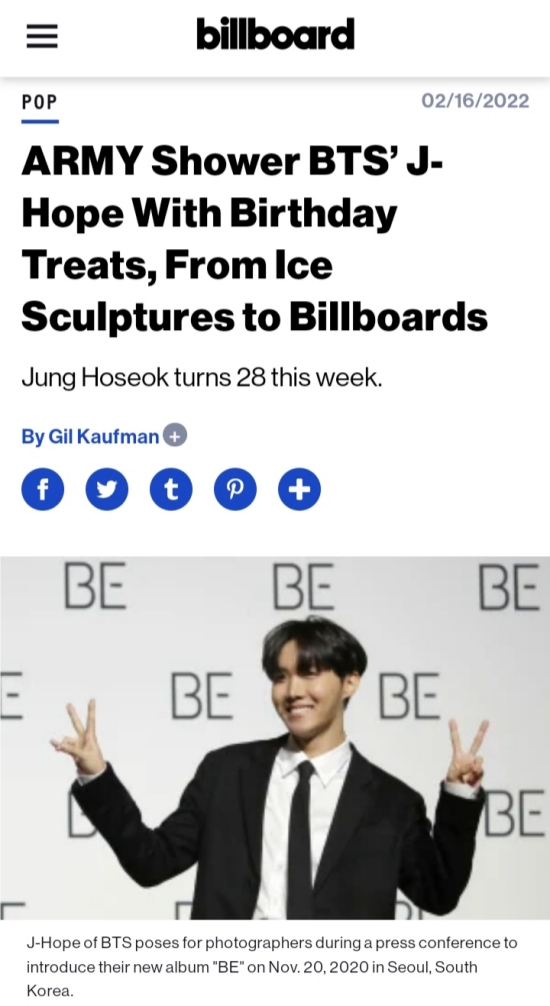 Introducing the cupholder event held at a cafe around the agency's building, BTS reported that it was full of dozens of posters, cakes, and souvenirs.

Particularly, Billboard stressed that there are tons of electronic display advertisements, including New York Times Square, Kyrgyzstan, Seoul, and Gwangju.

Also, Billboard introduced online events such as 'Hope World' sculptures, online fan art banners, streaming parties, hashtag trends, and polaroid photo events on the Sinchon specialty street in Seoul.

Charitable donations were also heavily dealt with. It listed help from a non-profit youth dance school in Cape Town, South Africa, a Malaysian coral reef planting project, support for New Zealand animal groups, and helping children with cancer in Mexico.

Meanwhile, group BTS will hold the 'BTS PERMISSION TO DANCE ON STAGE – SEOUL' concert on March 10, 12, and 13. It is the first time in two and a half years that BTS will hold a face-to-face concert in Seoul, both face-to-face and online.
You Might Also Like:
2022 kpop trending
,
2022 kpop updates
,
2022 latest news
,
best kpop news site
,
birthday of jhope
,
BTS
,
BTS Army
,
BTS ARMY celebrations
,
BTS BILLBOARD
,
bts butter
,
BTS fancam
,
BTS I'll Be Missing You
,
BTS J-Hope
,
bts jhope
,
BTS member
,
BTS Members
,
BTS News
,
BTS recent news
,
BTS trending news
,
BTS UPDATES
,
daily kpop news
,
Hope Day
,
J-Hope birthday
,
jhope bday
,
KPOP
,
kpop 2022
,
KPOP 2022 NEWS
,
Kpop artist
,
Kpop artists
,
KPOP BTS
,
kpop celebrity news
,
kpop daily news
,
Kpop idols
,
Kpop latest news
,
Kpop news
,
Kpop recent news
,
Kpop trend
,
Kpop trending
,
KPop trending news
,
Kpop trending now
,
kpop trending update
,
KPOPIDA
,
KPOPNEWS
,
Run BTS
,
Trending
,
trending kpop
,
Trending Kpop news
,
trending kpop update
,
trending news
,
trending update kpop