The solo song 'Chicken Noodle Soup/feat. Becky G' by BTS J-hope reignite its popularity along with its dance moves.
'Genius Korea,' operated by Genius, the world's largest lyric and music information website, announced on June 17th, "After a phenomenal performance, BTS J-Hope's 'Chicken Noodle Soup' topped the K-Hip-Hop chart."
BTS performed 'Chicken Noodle Soup' on stage for the first time in about a year and eight months since its release. Fans worldwide witnessed the performance at the online fan meeting performance 'BTS 2021 Muster SOWOOZOO (Mikrokosmos)' held on June 14th.
During its release in September 2019, it gained worldwide popularity. It reached #81 on the US Billboard Hot 100, #82 on the UK Official Singles Chart, and #55 on the Canadian Billboard Hot 100. However, there was no chance to be officially exposed to Korean music sites during that time. So, this proves the ripple effect of the song with just one stage performance recently.
Also, 'Chicken Noodle Soup' reverse its trend on other music charts. It topped the iTunes Chile single chart once again following 2019, and re-entered the Japanese iTunes chart at number 110. It also climbed back to the US iTunes music video chart, ranking 46th.
On Spotify, the world's largest music platform, on June 15th, it climbed 46 places from the previous day to 142 on the Korea chart. Besides, it re-entered the Peruvian chart and reached #184.
Worldwide fans have loved 'Chicken Noodle Soup' since its release. On Spotify, the song has more than 98 million streams and more than 262 million views of the music video.
Fans around the world are looking forward to BTS J-Hope's new solo work. In a video interview to commemorate the release of 'Butter' with BTS on May 22, Billboard expressed special interest in waiting for the release of 'Hope World,' and J-Hope's second mixtape.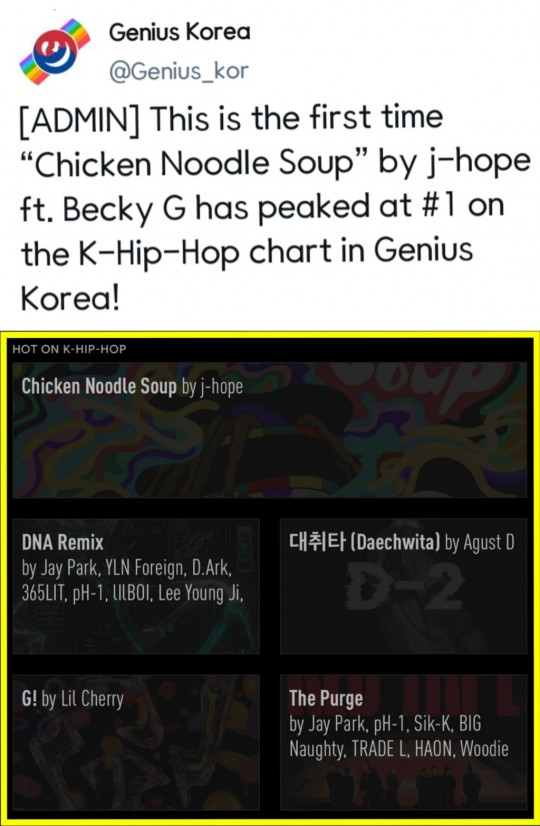 Read More About: THE BOYZ Two-Concept Pictorial Exudes Their Charm
2021 kpop
,
2021 kpop news
,
2021 kpop news updates
,
2021 kpop updates
,
2021 news kpop
,
2021 updates on kpop
,
BTS
,
BTS Army
,
BTS J-Hope
,
BTS News
,
BTS songs
,
BTS today
,
bts trending
,
BTS UPDATES
,
BTSTREND
,
Group BTS
,
J-hope
,
J-HOPE BTS
,
j-hope chicken noodle soup
,
J-HOPE NEWS
,
KPOP
,
Kpop 2021
,
Kpop artist
,
Kpop artists
,
KPOP BTS
,
Kpop idols
,
Kpop news
,
Kpop trend
,
Kpop trending
,
KPop trending news
,
Kpop trending now
,
kpop trending update
,
Kpop_BTS
,
KPOP2021
,
Kpopall
,
KPOPIDA
,
KPOPNEWS
,
Trending
,
trending 2021
,
trending kpop
,
Trending Kpop news
,
trending kpop update
,
trending news
,
trending update kpop