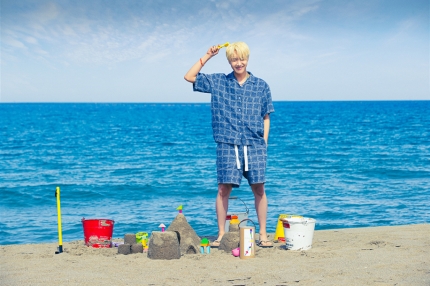 BTS J-Hope (Hoseok Jung) celebrates the 10,000th anniversary of his birth. He became a 'Choeaedol' charity fairy.
J-Hope became the 178th Charity Fairy by receiving 67,326,083 votes a day on July 5th. It is thanks to the enthusiastic support and love of fans around the world in the idol ranking service 'Choeaedol.' This day is the 10,000th anniversary of J-Hope's birth, adding meaning to the fandom 'ARMY.'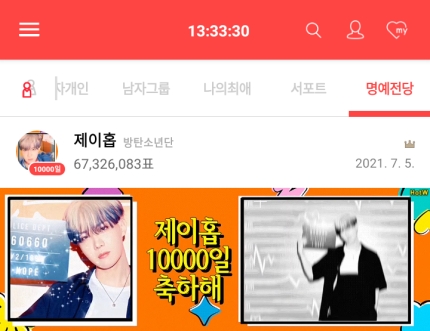 The fandom ARMY got together to celebrate J-Hope's anniversary on July 5th. So, ARMY dominated the real-time trend by posting the hashtag '#Hoseokah_10000days_Congratulations' on social media.
Fans said,
"I am always full of hope just by looking at our pretty Hoseok."
"Good J-Hope, thank you for being born. The days to come will be happier."
He encouraged voting by leaving a message full of love. On this day, J-Hope received a charity fairy from ARMY and took first place in the male individual ranking.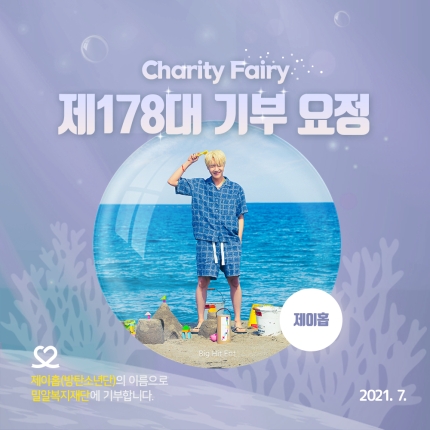 Previously, J-Hope holds the 'All Kill' record in 36 countries worldwide. In fact, the mixed tape 'Hope World,' released in March 2018, topped all songs on the iTunes chart in Brazil. BTS is breaking their new record with 'Butter,' rising to the top of the Billboard 'Hot 100' for 5 weeks in a row. So, this is one of the special reasons why fans and people worldwide are paying attention to BTS. They will release the single CD 'Butter' on July 9th and the new song 'Permission to Dance.'
'Choeaedol' is a donation angel if it achieves 1st place in terms of accumulated rankings for the past 30 days. Then, it's a charity fairy if it achieves 55,555,555 votes or more on various anniversaries.
BTS J-Hope, selected as the Charity Fairy twice so far, has achieved a cumulative donation amount of 1.5 million won. So, donations will proceed to the Millal Welfare Foundation in the name of J-Hope to fund the disabled, who are isolated due to COVID-19. In fact, the total amount of donations for 'Choeaedol' is 242 million won.
Read More About: BTS 'Billboard No. 1 For 6 Weeks In A Row'
2021 kpop
,
2021 kpop news
,
2021 kpop news updates
,
2021 kpop updates
,
2021 news kpop
,
2021 updates on kpop
,
BTS
,
bts 2021
,
BTS Army
,
BTS J-Hope
,
BTS News
,
BTS songs
,
BTS today
,
bts trending
,
BTS UPDATES
,
BTSTREND
,
Group BTS
,
J-hope
,
J-HOPE BTS
,
J-HOPE NEWS
,
KPOP
,
Kpop 2021
,
Kpop artist
,
Kpop artists
,
KPOP BTS
,
Kpop idols
,
Kpop news
,
Kpop trend
,
Kpop trending
,
KPop trending news
,
Kpop trending now
,
kpop trending update
,
Kpop_BTS
,
KPOP2021
,
Kpopall
,
KPOPIDA
,
KPOPNEWS
,
Kpopnews 2021
,
Kpopnews2021
,
Trending
,
trending 2021
,
trending kpop
,
Trending Kpop news
,
trending kpop update
,
trending news
,
trending update kpop