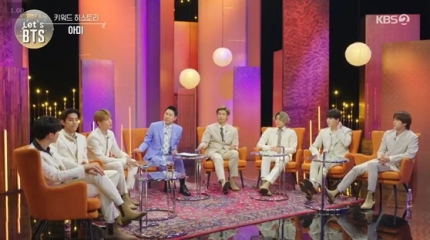 BTS had a time to introduce each other with affection.
On March 29th, KBS2 aired 'Let's BTS,' a 100-minute talk show exclusively for BTS. MC Dongyeop Shin came forward and had a pleasant conversation with BTS.
On that day, they had the time to introduce the person next to them. Jin said, "Suga has an excellent passion for music. If he were not a singer or composer, what would he have done? All his hobbies are music." Suga helped V like "a fool who only knows music". Suga said to the members compliments that "there is only this that I know how to do".
Then, Suga introduced Jungkook. "He's the most talented musician I've ever seen. I haven't seen a friend as talented as this one. I've been too big lately," he expressed praise and worry.
Jungkook said, "I want to be a bit slimmer than Jong-guk Kim's senior," and revealed the goal of bulk-up. I talk a lot, and RM is the reason why I joined Big Hit. The way he rap was cool. As a result of watching from his debut until now, he is a person who deserves a position as a leader of BTS. RM can teach us both musically and as a person. RM taught us many things. I am a person who always wants to remain my leader in the future."
RM said, "If Jimin tries to explain, he can save the day. A lot of my friends liked Jimin. He considers others and teams more than himself. He attracts people when he is on the stage. Isn't he an idol?" RM praised Jimin.
Jimin said, "As you can see, V is handsome. He was born in 1995 at 178.8cm and had the same age as me. When we first met, I thought he was unique and playful. Also, I thought he would appear as a cartoon character. Wasn't he a human? He is a humane person. Besides, he's consistent and an excellent friend of mine." Jimin expressed his affection for V.
V said, "J-Hope is a person who doesn't change the most. He's always grateful for what he has. He's the kindest. I haven't seen anyone nicer than this person. I'm working hard on the stage, and everything is cool, but the coolest thing is to consider others. He is a person who listens to his worries and gives him a little more of his own."
J-Hope said, "Jin is cool just by existence. Even though he is the eldest, he can lead the atmosphere of the team well without being bound by hierarchical order."