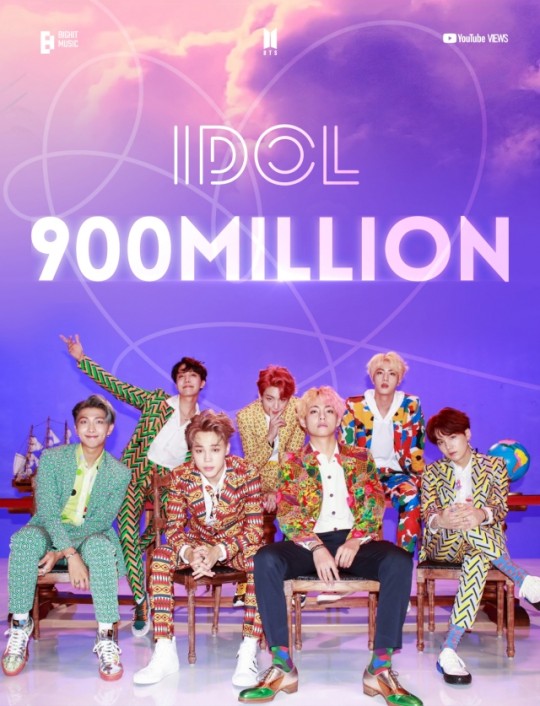 BTS 'Idol' music video exceeded 900 million views.
According to Big Hit Music, the title song 'Idol' of BTS repackage album 'Love Yourself' released in August 2018 was viewed on YouTube at 5 am on the 25th. It exceeded 900 million cases in the 59th minute. If you add up to the number of views of the music video for 'IDOL (Feat. Nicki Minaj), it is currently recording more than 1 billion views.
After the release, 'Idol' rose to 11th place on the US Billboard main single chart 'Hot 100.'
It also ranked 21st in the UK's 'Official Singles Chart Top 100.' So, BTS once again attracting great attention. Also, BTS 'Idol' music video won as the 'Music Video of 2018' in the '2018 E! People's Choice Awards' held in November 2018. It only provides the group's global popularity.
The music video for 'Idol' contains a festive atmosphere in a tropical savannah grassland. The 'Bukcheong Lion Play,' a Euro-Asian architecture with a colorful set, showing the traditional Korean styles, was featured in the MV. Particularly, their sensational and splendid visuals stand out. It adds to the subculture graphic effect of the music video. Also, their performance combines Korean culture and masks dance.
Meanwhile, BTS has a total of 31 billion-unit hit music videos. They garnered 1.2 billion views of 'DNA' and 'Boy With Luv' (Feat. Halsey).' Next, 1 billion views of 'Dynamite,' 900 million views of 'FAKE LOVE,' 'MIC Drop,' remix, 'IDOL,' 'Blood Sweat & Tears' with 700 million views. Their song 'FIRE' reached 600 million views, 'Dick,' and 'Save ME with 500 million views. The songs 'Not Today' and 'Spring Day' recorded 400 million views each. While 'Real Man' and 'ON' exceeded 300 million views each. In addition, Life Goes On,' 'Hormone War' with 200 million views, 'I NEED U,' 'Black Swan' and 'Danger' exceeded 100 million views each. 'Only one day, 'We are bulletproof PT.2', 'RUN,' 'Serendipity,' 'Singularity,' 'No More Dream,' 'IDOL (Feat. Nicki Minaj)' and the rest of their songs gathered millions of views.
Read More About:
BTS Releases The New Song 'Butter' Next Month
BTS V Song, 'Snow Flower' Surpassed 14 Million Streams
2021 kpop news
,
2021 kpop news updates
,
2021 kpop updates
,
BTS
,
BTS Army
,
BTS News
,
BTS songs
,
BTS today
,
BTS UPDATES
,
bts_idol
,
BTSTREND
,
Group BTS
,
Kpop artist
,
KPOP BTS
,
Kpop news
,
Kpop trend
,
Kpop trending
,
KPop trending news
,
Kpop trending now
,
kpop trending update
,
Kpop_BTS
,
KPOP2021
,
KPOPIDA
,
KPOPNEWS
,
Trending
,
trending 2021
,
trending kpop
,
Trending Kpop news
,
trending kpop update
,
trending news
,
trending update kpop
,
trending updte