In April, Kpop group BTS and the fandom ARMY will surely fill the streets of Las Vegas, USA. According to BIGHIT Music, on February 23, BTS will be hosting the 'BTS PERMISSION TO DANCE ON STAGE – LAS VEGAS' concert at Allegiant Stadium in Las Vegas (USA) for a total of four days on April 8, 9, 15, and 16.
Allegiant Stadium, where the concert will take place, is a stadium that opened in July 2020. It can accommodate approximately 65,000 people.
In addition to offline performances, there will be a 'Live Play' event where you can watch real-time live broadcasts on a large screen at the nearby MGM Grand Garden Arena. Also, on the last day, April 16, there will be a live online broadcast.
This is the first in-person performance by BTS in about four months since the 'BTS Permission to Dance on Stage -LA' held in Los Angeles (LA) in late November to early December last year. According to the Billboard Box Score, at that time, BTS sold 214,000 tickets through a total of four performances. Also, ticket sales recorded about $33.3 million (about 39.4 billion won).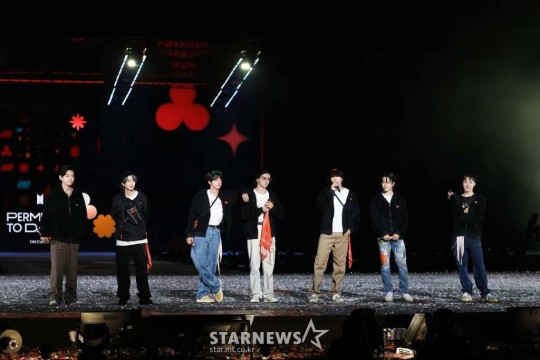 Before the concert, they will also attend the '64th Grammy Awards' in Las Vegas on April 3 (US time). With the concert announcement on the same day, BIGHIT Music said, "We place the artists' and fans' health as our top priority to keep the 64th Grammy Awards participation and 'BTS PERMISSION TO DANCE ON STAGE – LAS VEGAS' concert as safe as possible."
The '64th Grammy Awards,' initially scheduled in January, was postponed due to the spread of COVID-19. At the same time, they also changed the venue from Staples Center in Los Angeles to MGM Grand Garden Arena in Las Vegas.
BTS received a nomination for one of the genre awards for 'Best POP DUO/GROUP PERFORMANCE' with 'Butter' at this awards ceremony. Last year, BTS received a nomination in the same category for 'Dynamite.'
Also, it is of great interest whether BTS will succeed in winning the Grammy Awards this year and achieve the 'Grand Slam,' at one of the top three American popular music awards following the 'Billboard Music Awards and 'American Music Awards.'
Before leaving for the US, Kpop group BTS will hold 'BTS Permission to Dance on Stage – Seoul' at the Olympic Stadium in Seoul on March 10, 12, and 13. They will meet with domestic fans for the first time in two years and five months since 2019. The Ministry of Culture, Sports, and Tourism allowed BTS to accommodate 15,000 spectators per concert day. So, a total of 45,000 spectators will be spending time with BTS for three days.
You Might Also Like:
agust d
,
best Kpop girl group
,
best kpop news site
,
best kpopstar
,
breaking news kpop
,
BT21
,
BTS
,
BTS Army
,
BTS BILLBOARD
,
bts butter
,
BTS fancam
,
BTS I'll Be Missing You
,
BTS J-Hope
,
bts jimin
,
bts Jungkook
,
BTS member
,
bts member Jimin
,
BTS member V
,
BTS Members
,
BTS News
,
BTS recent news
,
BTS routine
,
BTS solo songs
,
bts suga
,
BTS trending news
,
BTS UPDATES
,
BTS V
,
daily kpop news
,
Fandom
,
Filter
,
J-hope
,
JIMIN
,
Jin
,
JUNGKOOK
,
Korean celeb news
,
Korean singer
,
Korean singer songwriter
,
KPOP
,
Kpop album
,
Kpop beauty routine
,
Kpop boy group
,
KPOP BTS
,
kpop celebrity news
,
Kpop chart and news
,
Kpop colllaboration
,
KPOP comeback
,
Kpop current news
,
kpop daily news
,
Kpop fashion
,
Kpop girls group
,
Kpop idols
,
Kpop issues
,
Kpop latest news
,
Kpop music chart
,
Kpop news
,
Kpop news articles
,
Kpop news sites
,
kpop news update
,
Kpop recent news
,
Kpop skin care routine
,
Kpop skincare routine
,
KPop trending news
,
KPOPNEWS
,
permission to dance
,
RM
,
Run BTS
,
South Korean singer songwriter
,
SUGA
,
TAEHYUNG KIM
,
the best kpop girl group
,
the best kpop girl group of 2021
,
the best kpop group of 2021
,
the top kpop group
,
top kpop boy group
,
top kpop girl group
,
V
,
weverse magazine