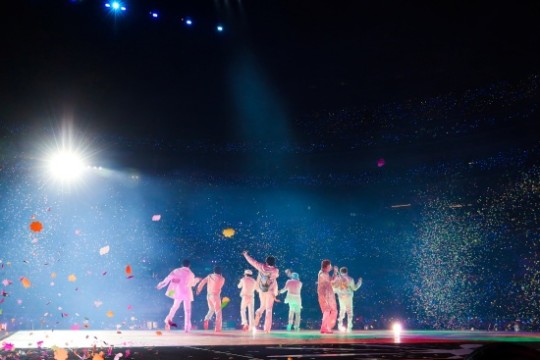 It was a dream-like time with the Kpop group BTS.
BTS held an offline concert of 'BTS PERMISSION TO DANCE ON STAGE' at Sofi Stadium in LA on November 28 (US time).
This offline concert is the first time in more than two years since its 2019 performance in Seoul. BTS has not been able to meet fans in person for the past two years due to the COVID-19 pandemic. So, they held a festival of joy by meeting fans in person through an offline concert in LA.
At this LA concert, they performed 'ON,' 'FIRE,' 'Dope,' 'DNA,' 'Blood Sweat Tears,' 'FAKE LOVE,' 'Life Goes On,' 'Boy With Luv,' 'Dynamite,' 'Butter,' 'Save Me,' and 'Permission to Dance.'
BTS has expanded its global fandom by touring around the world. COVID-19 caused a crisis on overseas activities. But, BTS has firmly established itself as a representative group of Kpop. They released hit songs such as 'dynamite,' 'Butter,' and 'Permission to Dance' in a row.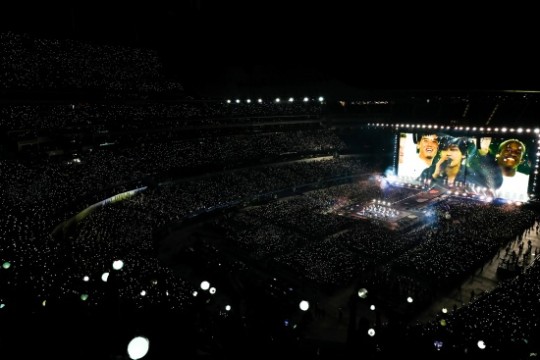 As it is the first offline concert of BTS in two years, fans from all over the world gathered in LA to watch the face-to-face performance. Some fans flew from Korea to watch the LA concert, and 'ARMY' from all over the US gathered in LA. In addition, 'ARMYs' from various countries have taken a step forward to meet BTS in person and enjoy the festival.
The members spoke in English for global fans. They expressed longing but welcomed the fans splendidly, who they finally met after a long time. Fans who filled the stadium cheered loudly for every little look and gesture of the members and expressed overwhelming emotions.
BTS Jin looked around the packed audience and said happily, "There is Borahae, and there is Love. ARMYs from different languages and countries were shouting "Borahae" and "I love you" in unison with one love for BTS.
Starting with the concert in LA, BTS plans to continue its new tour series. Notably, as they said at an earlier press conference, "We also scheduled a performance in Korea," raising the interest and expectations of domestic fans.
Kpop group BTS is back on stage with unique cheerful and bright energy and a healthy appearance. Expectations are already high that BTS, which has been on stage with upgraded stages and performances thanks to fans' support, will make ARMYs worldwide happy with other gift-like performances after the LA concert.
Read More About: BTS Successfully Finished The Day 2 Of The 'PTD On Stage LA' Concert
agust d
,
best Kpop girl group
,
best kpop news site
,
best kpopstar
,
breaking news kpop
,
BT21
,
BTS
,
BTS Army
,
BTS BILLBOARD
,
bts butter
,
BTS fancam
,
BTS I'll Be Missing You
,
BTS J-Hope
,
bts jimin
,
bts Jungkook
,
BTS member
,
bts member Jimin
,
BTS member V
,
BTS Members
,
BTS News
,
BTS recent news
,
BTS routine
,
BTS solo songs
,
bts suga
,
BTS trending news
,
BTS UPDATES
,
BTS V
,
daily kpop news
,
Fandom
,
Filter
,
J-hope
,
JIMIN
,
Jin
,
JUNGKOOK
,
Korean celeb news
,
Korean singer
,
Korean singer songwriter
,
KPOP
,
Kpop album
,
Kpop beauty routine
,
Kpop boy group
,
KPOP BTS
,
kpop celebrity news
,
Kpop chart and news
,
Kpop colllaboration
,
KPOP comeback
,
Kpop current news
,
kpop daily news
,
Kpop fashion
,
Kpop girls group
,
Kpop idols
,
Kpop issues
,
Kpop latest news
,
Kpop music chart
,
Kpop news
,
Kpop news articles
,
Kpop news sites
,
kpop news update
,
Kpop recent news
,
Kpop skin care routine
,
Kpop skincare routine
,
KPop trending news
,
KPOPNEWS
,
permission to dance
,
RM
,
Run BTS
,
South Korean singer songwriter
,
SUGA
,
TAEHYUNG KIM
,
the best kpop girl group
,
the best kpop girl group of 2021
,
the best kpop group of 2021
,
the top kpop group
,
top kpop boy group
,
top kpop girl group
,
V
,
weverse magazine