Group BTS (RM, Jin, Suga, J-Hope, Jimin, V, Jungkook) is returning to all-time music and stage.
BTS will release its new digital single 'Butter' worldwide. It will be available through domestic and overseas music sites on May 21 at 1 pm (Korean time).
In addition, BTS will release a new physical album filled with new songs such as 'Butter' before the end of summer.
They will resume official activities six months after the 'BE' album. It includes the title track 'Life Goes On' released in November last year.
▲ Unstoppable worldwide comeback, 'Billboard Music Awards' solo stage for 4 consecutive years
They will release the song for the first time at the '2021 Billboard Music Awards.'
This will take place on the afternoon of May 23rd (May 24th Korean Time).
This marks the fourth consecutive year that BTS has achieved a significant feat as a performer on the Billboard Music Awards. Earlier, BTS unveiled the 'FAKE LOVE' performance for the first time at the 2018 awards ceremony. Also, they presented 'Boy With Luv' performance with singer Halsey the following year. Last year's Billboard Music Awards were pre-recorded in Korea in the aftermath of Covid-19. So, domestic and foreign music fans praised BTS for singing 'Dynamite' in the background of Incheon International Airport.
There is also a high possibility of winning the award. BTS is a nominee for four Billboard Music Awards this year. They are nominees at the TOP DUO/GROUP, TOP SONG SALES ARTIST, TOP SOCIAL ARTIST, and TOP SELLING SONG award categories. This breaks their record for most award nominations.
From Entertainment Production Director Youngseok Na to American drama 'Friends'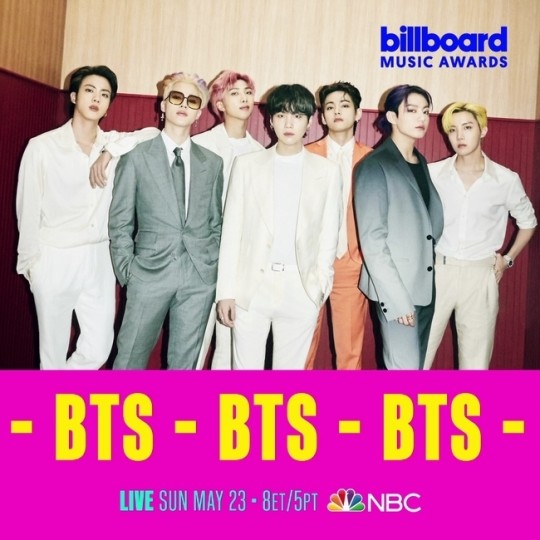 BTS is carrying out unexpected active broadcasting activities ahead of their comeback. After appearing in JTBC's 'Men On A Mission' (Knowing Brothers) in September 2017, they appeared on domestic entertainment shows that they had not appeared for four years except for music shows. It is their step in line with the pandemic situation in which large-scale world tour concerts have become impossible.
BTS made headlines by appearing on tvN's 'U Quiz on the Block' BTS special on March 24 and KBS 2TV's exclusive talk show 'Let's BTS' on March 29.
From May 4 to 14, they appeared on tvN's 'Fifteen Nights On A Business Trip,' creating a sea of laughter with producer Youngseok Na, showing Tikitaka and chemistry.
BTS will also be part of the famous American series 'Friends.' According to recent local media reports such as Billboard and Entertainment Weekly, BTS was on the list of special edition 'Friends: The Reunion' guest list along with singers Justin Bieber, Lady Gaga, soccer star David Beckham, James Corden, Cindy Crawford, and many more. The special edition of Friends will air on May 27 through the HBO Max channel.
▲ Rolling Stone's first ever in 54 years, will feature BTS as magazine cover
It is also noteworthy that BTS will be the cover model of Rolling Stone, the leading music magazine in the United States. On May 13th, Rolling Stone released various pictorial photos and videos of BTS through their official website. The Asian group will be the cover model for Rolling Stone magazine. It is the first record in the 54-year history of Rolling Stone. BTS has been proving their dignity as 'the world's best boy band.'
Through an article titled 'The Triumph of BTS,' Rolling Stone focused on how the seven youths redefined the music business rules and became the world's largest group. Rolling Stone said, "The seven-member BTS shows a new, better world. It is a group that has achieved world-class success by breaking the boundaries and overthrowing hegemony."
▲ Expectations for the birth of the fourth Billboard No. 1 song
'Butter,' which will be released in five days, is said to be as complete as BTS's biggest hit song 'Dynamite.' "It is an English song of the dance pop genre," said Big Hit Music.
As it is an exciting and cheerful song aimed at summer, the 'Butter' craze following 'Dynamite' is also expected. In August last year, BTS released its first English single, 'Dynamite' with the disco-pop genre. It spreads vitality and comfort to the world amid the Covid-19 crisis.
BTS is determined to show off its soft, sometimes charismatic charm throughout this new song. Debuting in 2013, they have steadily expanded their spectrum by digesting various genres in their own personalities. As the team has always lived up to the support and love of global music fans, their music and performances do not disappoint expectations. Fans' interests in BTS's musical growth and records that they will achieve through 'Butter' have also reached their peak.
As predicted by many music fans and industry officials, if 'Butter' occupies the US Billboard main single chart 'Hot 100,' BTS will leave its fourth 'Hot 100' No. 1 song.
In August last year, BTS topped the Hot 100 list for the first time by a Korean singer with their digital single 'Dynamite' and topped the charts three times, including the top spot for two consecutive weeks.
In October last year, they created their second No. 1 song with the remix version of 'Savage Love' in collaboration with American singer Jason Derulo. Then, they also achieved their third No. 1 song with the title song 'Life Goes On' in November last year. 'Life Goes On' was even more meaningful as it was a great achievement for BTS, given that it has Korean lyrics.
Read More About: BTS World Tour Film Wins MTV 'Best Music Documentary'
2021 kpop news
,
2021 kpop updates
,
BTS
,
BTS Army
,
BTS News
,
BTS today
,
BTS UPDATES
,
BTSTREND
,
Group BTS
,
KPOP
,
Kpop 2021
,
Kpop artist
,
Kpop artists
,
KPOP BTS
,
Kpop idols
,
Kpop news
,
Kpop trend
,
Kpop trending
,
KPop trending news
,
Kpop trending now
,
Kpop_BTS
,
KPOP2021
,
Kpopall
,
KPOPIDA
,
KPOPNEWS
,
trending kpop
,
Trending Kpop news
,
trending kpop update
,
trending update kpop