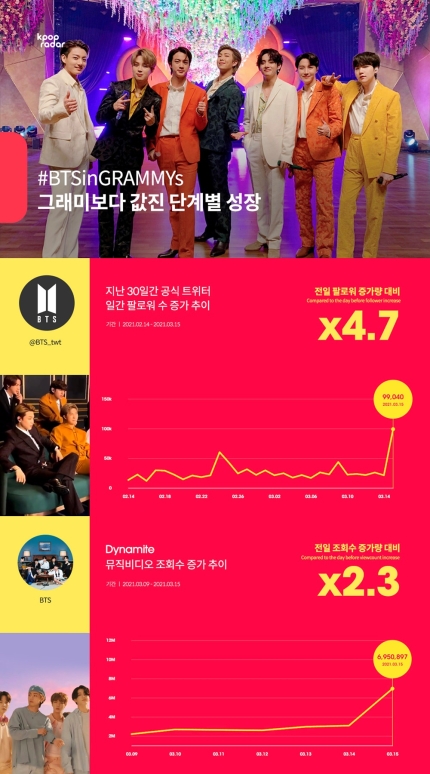 K-Pop Radar focuses on analyzing the YouTube and SNS records of BTS. For the record, BTS is the first Asian artist to be nominated for the 'Grammy Awards.'
'Grammy Awards' is the most prestigious music award ceremony in the US. On March 17th, K-Pop Radar announced the increasing Twitter followers of BTS. It increases by 4.7 times compared to the previous day. Also, the 'Dynamite' music video is increasing by 2.3 times.
The growth of BTS continues. They started gaining awards at 'Grammy Awards' in 2019. This year, BTS got the nomination for Grammy Awards 'Best Pop Duo' Group Performance category. It really raised the status of K-Pop around the world. K-Pop Radar said, "BTS is recording a step-by-step growth in Grammy's. This is the reason we are not disappointed."
Unfortunately, BTS did not get the award from Grammy Awards this year. But, the BTS fandom data compiled on the K-pop radar recorded a significant amount of change.
On the 15th, K-Pop Radar recorded a total of 6.95 million views for BTS' music video of 'Dynamite.' It is a steep increase in views than the previous days. This is an increase of about 2.3 times and it is the highest daily number of views in 192 days since September 5 of last year.
Regarding this, "The increase in daily followers of BTS is 3-4 times higher than that of competing candidates. BTS is an artist who is continuing inexhaustible growth." K-Pop Radar stated.
"They have missed the award unfortunately, but it does not reflect their global popularity. BTS decorated a splendid stage. Thanks to their continuous growth, we can expect another goal of 'award' next year."
On the other hand, K-Pop Radar is a fandom data service opened by music startup Space Audition. This is to allow users to grasp fandom data at a glance following the rapid growth of K-Pop. Currently, K-Pop Radar has been providing web services in the form of graphs and charts. They present the percentage based on the number of music video views, YouTube subscribers, Twitter, Instagram, and Facebook followers. In addition, they are monitoring the fan websites of 570 Korean artist teams.
2021 kpop news
,
2021 kpop news updates
,
2021 kpop updates
,
2021 updates on kpop
,
BTS
,
BTS Grammy Awards
,
BTS News
,
BTS songs
,
BTS UPDATES
,
BTSTREND
,
Group BTS
,
KPOP
,
Kpop 2021
,
Kpop artist
,
Kpop artists
,
KPOP BTS
,
Kpop idols
,
Kpop news
,
Kpop trending
,
KPop trending news
,
Kpop_BTS
,
KPOP2021
,
Kpopall
,
KPOPIDA
,
KPOPNEWS
,
Kpopnews 2021
,
Kpopnews2021
,
Kpopstars
,
Trending Kpop news