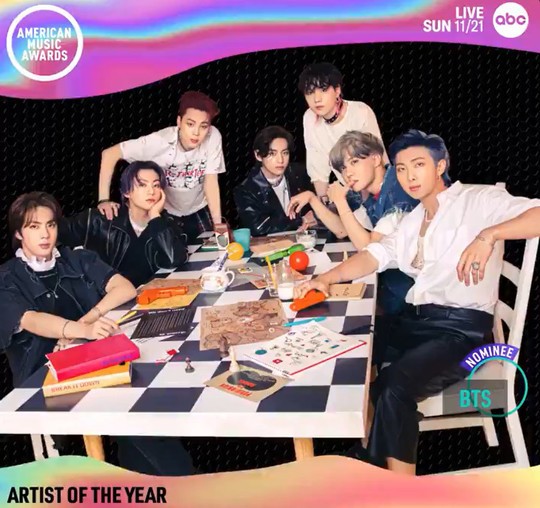 The Kpop group BTS has confirmed their appearance at the US popular music awards '2021 American Music Awards (AMAs).'
BTS announced on their official social media on November 8 that they would appear as performers in the '2021 American Music Awards' in Los Angeles, USA, on November 21.
The group said, "We are excited to be releasing the world's first 'Butter' performance with our friend Megan Thee Stallion at 'AMAs.'"
Earlier, they released the remix version of 'Butter' on August 27 with Megan Thee Stallion. The song is a version in which Megan Thee Stallion participated as a rapper in 'Butter.'
Kpop group BTS released 'BUTTER' in May. It swept the top spots on various global charts, including 'Hot 100' in the US Billboard's main singles chart.
BTS became a nominee for a total of three categories at AMAs. It includes 'Artist of the Year,' 'Favorite Pop Duo Group,' and 'Favorite Pop Song.'
In fact, 'Artist of the Year,' which means Artist of the Year, is the grand prize category for 'AMAs.'
It is the first time BTS became a candidate for the grand prize at major US music awards. Last year's grand prize winners were Taylor Swift. This year, BTS, Ariana Grande, Drake, Olivia Rodrigo, Taylor Swift, and The Weeknd will compete for the 'Artist Of The Year' award. Regardless of whether BTS will get the award or not, the nomination alone proved its status as a '21st-century pop icon.'
'American Music Awards' is one of the top three music awards in the United States, along with the Billboard Music Awards and the Grammy Awards. So, this year's awards ceremony will air live on the ABC channel in the US.
Meanwhile, BTS will host its solo concert 'BTS PERMISSION TO DANCE ON STAGE – LA' at SoFi Stadium in Los Angeles. It will take place from November 27-28 to December 1-2. This concert draws attention from music fans worldwide. It is the first BTS's offline concert in two years since the pandemic.
Read More About: BTS Jimin Is Raising Expectations For Another Legendary Performance At The 'MMA 2021'
agust d
,
best Kpop girl group
,
best kpop news site
,
best kpopstar
,
breaking news kpop
,
BT21
,
BTS
,
BTS Army
,
BTS BILLBOARD
,
bts butter
,
BTS fancam
,
BTS I'll Be Missing You
,
BTS J-Hope
,
bts jimin
,
bts Jungkook
,
BTS member
,
bts member Jimin
,
BTS member V
,
BTS Members
,
BTS News
,
BTS recent news
,
BTS routine
,
BTS solo songs
,
BTS songs
,
bts suga
,
BTS today
,
bts trending
,
BTS trending news
,
BTS UPDATES
,
BTS V
,
BTSTREND
,
daily kpop news
,
Fandom
,
Filter
,
Group BTS
,
Hip-hop Idol JIN
,
J-hope
,
JIMIN
,
Jin
,
JIN news
,
Jinwoo Kim
,
JUNGKOOK
,
Korean celeb news
,
Korean singer
,
Korean singer songwriter
,
KPOP
,
Kpop album
,
Kpop beauty routine
,
Kpop boy group
,
KPOP BTS
,
kpop celebrity news
,
Kpop chart and news
,
Kpop colllaboration
,
KPOP comeback
,
Kpop current news
,
kpop daily news
,
Kpop fashion
,
Kpop girls group
,
kpop group winner
,
kpop idol JIN
,
Kpop idols
,
Kpop issues
,
Kpop latest news
,
Kpop music chart
,
Kpop news
,
Kpop news articles
,
Kpop news sites
,
kpop news update
,
Kpop recent news
,
Kpop skin care routine
,
Kpop skincare routine
,
KPop trending news
,
Kpop_BTS
,
KPOPNEWS
,
minho song
,
permission to dance
,
RM
,
Run BTS
,
Seunghoon Lee
,
Seungyoon Kang
,
Singer JIN
,
South Korean singer songwriter
,
SUGA
,
TAEHYUNG KIM
,
the best kpop girl group
,
the best kpop girl group of 2021
,
the best kpop group of 2021
,
the top kpop group
,
top kpop boy group
,
top kpop girl group
,
V
,
weverse magazine
,
WINNER
,
WINNER members