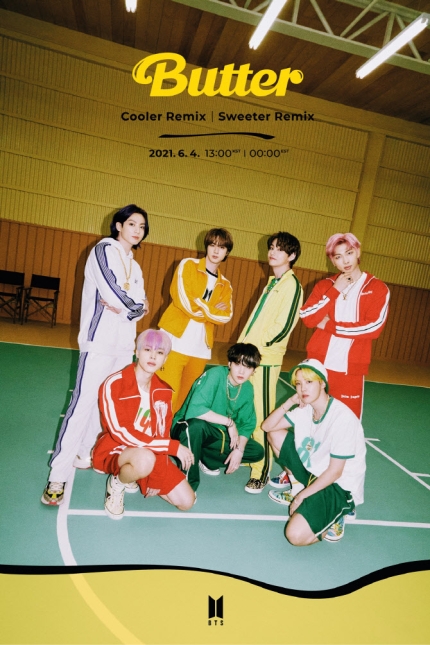 The group BTS will challenge the Hot 100 for 2 weeks in a row.
BTS's new song 'Butter' reached number one on the US Billboard's main singles chart in the first week of its release. They achieve their fourth-ever number one on the Hot 100 chart.
'Butter,' released on May 21st, is a summer song with an exciting atmosphere. It is a song that features a dynamic performance. It emphasizes the lyrics of 'I will melt you smoothly like butter and captivate you.'
BTS is the first foreign artist introduced by 180 radio stations in the US in the top 40 formats dealing with popular pop songs. 'Butter' has entered more strongly and calmly than 'Dynamite.' It is now properly targeting the taste of the American public.
BTS' 'Butter' is constantly writing new records. It broke five Guinness World Records on YouTube and Spotify alone. In addition, the music video for 'Butter' is advancing toward 400 million views on YouTube. It is within the shortest time after 100 million views, 200 million views, and 300 million views. Considering that the unchanging popularity streak continues even in the second week, there is a lot of observation that 'Butter' is most likely to occupy the top spot on the Hot 100 for two weeks in a row.
Particularly, BTS released three additional remix versions. It includes the 'Hotter' version reinterpreted as electro dance music. The 'Sweeter' version features R&B sensibility. While the 'Cooler' version features other sounds. When Billboard ranks the Hot 100, even the sales of remix songs are reflected in the original song's performance. "The strategy to increase the number of downloads through the remix version can only be effective with a loyal fandom. Considering the great firepower of BTS's fandom 'ARMY,' we will be able to reach the top of the Hot 100 for two consecutive weeks. It is thanks to the release of the remix versions," a K-Pop source said.
BTS's competitor for the top spot in the Hot 100 is Olivia Rodrigo. She is a hot newcomer rising fiercely in the US pop market.
Olivia Rodrigo is a 'monster rookie' who topped both the Hot 100 and Billboard 200 charts with her debut album 'Sour.' 
On the Hot 100 chart last week, BTS gave up first place, but they caught attention by taking second and third places in a row. BTS is ahead in download, but Olivia Rodrigo is far ahead in streaming. So, music fans are expecting a fierce battle this week for number one on the Hot 100.
Read More About: BTS RM, Released His Self-Composed Song 'Bicycle'
2021 kpop
,
2021 kpop news
,
2021 kpop news updates
,
2021 kpop updates
,
2021 news kpop
,
2021 updates on kpop
,
BTS
,
BTS Army
,
BTS News
,
BTS songs
,
BTS today
,
bts trending
,
BTS UPDATES
,
BTS V
,
BTSTREND
,
Group BTS
,
KPOP
,
Kpop 2021
,
Kpop artist
,
Kpop artists
,
KPOP BTS
,
Kpop idols
,
Kpop news
,
Kpop trend
,
Kpop trending
,
KPop trending news
,
Kpop trending now
,
kpop trending update
,
Kpop_BTS
,
KPOP2021
,
Kpopall
,
KPOPIDA
,
KPOPNEWS
,
Trending
,
trending 2021
,
trending kpop
,
Trending Kpop news
,
trending kpop update
,
trending news
,
trending update kpop