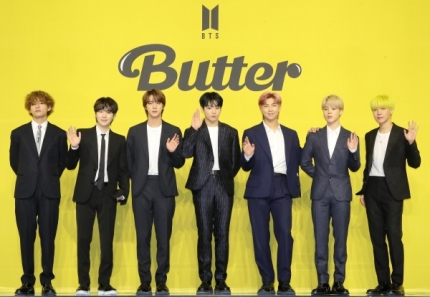 The BTS's new song 'Butter' topped the Billboard main single chart for three consecutive weeks.
On June 14, Billboard revealed that 'Butter' topped the 'Hot 100' weekly ranking of the most popular songs in the United States for the third week in a row.
BTS said on Twitter on the same day, "Thank you so much 'Army' who made an incredible record of being number one on the Billboard for 3 weeks in a row."
This is the first time for a BTS song to top the 'Hot 100' for 3 consecutive weeks.
Last year, the first English song, 'Dynamite,' ranked first in three weeks. But after winning first place in the first and second weeks, it went down to second place in the third and fourth week and then reached the top again in the fifth week.
BTS's No. 1 Hot 100 record is eight times in total, including 'Dynamite' (3 times), 'Savage Love' remix (1 time), and the Korean song 'Life Goes On' (1 time).
BTS has also performed well this week in music sales and radio listening scores.
According to Billboard, the number of 'butter' music downloads fell 1% from the previous week to 138,400 this week.
But, the remix version released on June 4th has gained popularity.
It has a 'sweeter' version with R&B sensibility and a 'cooler' version with a refreshing guitar sound.
Usually, Billboard do not view remix versions as individual songs, but include them in the original.
Radio listeners rose 10 % to 24.6 million.
BTS rose four places on the 'Radio Songs' chart from 32nd to 28th.
The number of streams decreased by 19% from last week. But, it won the first place thanks to the number of music downloads and radio listeners.
It is said that BTS is gradually gaining popularity in the United States.
Read More About: BTS Dominates US Billboard For 3 Weeks In A Row
2021 kpop
,
2021 kpop news
,
2021 kpop news updates
,
2021 kpop updates
,
2021 news kpop
,
2021 updates on kpop
,
BTS
,
bts butter
,
BTS News
,
BTS songs
,
BTS today
,
bts trending
,
BTS UPDATES
,
bts_butter
,
BTSTREND
,
butter
,
Group BTS
,
KPOP
,
Kpop 2021
,
Kpop artist
,
Kpop artists
,
KPOP BTS
,
Kpop idols
,
Kpop news
,
Kpop trend
,
Kpop trending
,
KPop trending news
,
Kpop trending now
,
kpop trending update
,
Kpop_BTS
,
KPOP2021
,
Kpopall
,
KPOPIDA
,
KPOPNEWS
,
Trending
,
trending 2021
,
trending kpop
,
Trending Kpop news
,
trending kpop update
,
trending news
,
trending update kpop