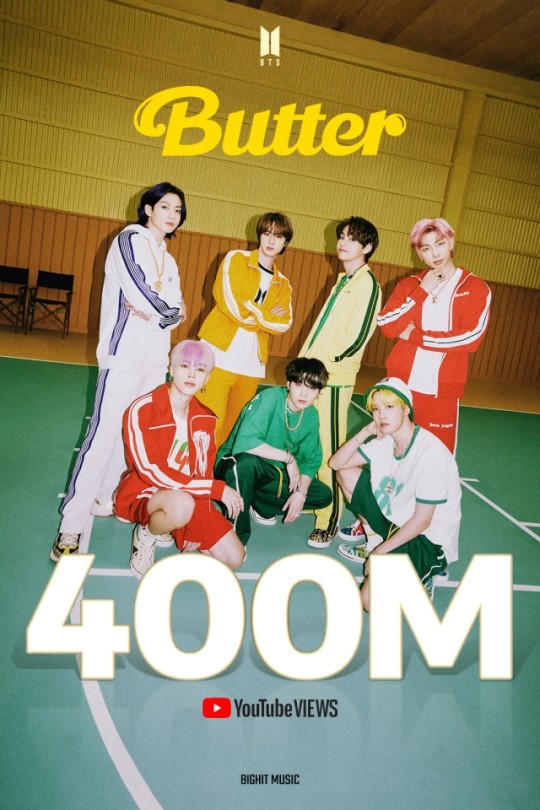 The music video for BTS' second English single 'Butter' has surpassed 400 million views.
According to the agency Big Hit Music on June 29th, YouTube views of the music video for 'Butter,' released on May 21st, exceeded 400 million at 11:01 pm on June 28th. Among BTS' music videos, 'Butter' is the 13th to surpass 400 million YouTube views.
BTS topped the US Billboard's main singles chart 'Hot 100' for 5 weeks in a row on July 3 with 'Butter.' They just set the first great record in the 21st century as a group. Also, in Japan's Oricon's 'Weekly Streaming Ranking,' it maintained the top position for 5 consecutive weeks, from May 31 to the latest chart (June 28).
So, a heated response to the song followed the music video. In fact, the music video of 'Butter' exceeded 3.9 million simultaneous users at the time of its release. It achieves the highest YouTube Premier Music Video viewing record. Also, it recorded 18.2 million views in 24 hours, the highest 24-hour view record in YouTube music video history.
Guinness World Records listed the 'Butter' music video as a new record in four categories: 'YouTube Video Premiere Most Views,' 'YouTube Music Video Premiere Most Views in 24 Hours,' 'Most Viewed YouTube Music Video in 24 Hours,' and 'Most Viewed YouTube Music Video in 24 Hours by a K-Pop Group.'
Read More About: BTS+SEVENTEEN+TXT, Swept Korean, American & Japanese Music Charts
2021 kpop
,
2021 kpop news
,
2021 kpop news updates
,
2021 kpop updates
,
2021 news kpop
,
2021 updates on kpop
,
BTS
,
BTS Army
,
bts butter
,
bts jimin
,
bts Jungkook 2021
,
BTS News
,
BTS songs
,
BTS today
,
bts trending
,
BTS UPDATES
,
BTS V
,
bts_butter
,
BTS_JIMIN
,
BTS_RM
,
BTS_SUGA
,
BTSTREND
,
Group BTS
,
J-hope
,
KPOP
,
Kpop 2021
,
Kpop artist
,
Kpop artists
,
KPOP BTS
,
Kpop idols
,
Kpop news
,
Kpop trend
,
Kpop trending
,
KPop trending news
,
Kpop trending now
,
kpop trending update
,
Kpop_BTS
,
KPOP2021
,
Kpopall
,
KPOPIDA
,
KPOPNEWS
,
Kpopnews 2021
,
Kpopnews2021
,
Trending
,
trending 2021
,
trending kpop
,
Trending Kpop news
,
trending kpop update
,
trending news
,
trending update kpop