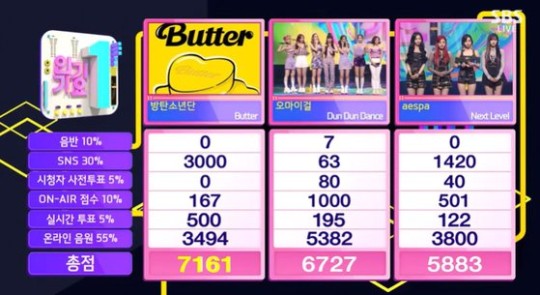 BTS continued to gain popularity.
Although BTS did not perform on SBS 'Inkigayo' broadcast on May 30th, they still took the top spot. The day before, on May 29th, they also took first place without performing on the MBC's 'Show! Music Core.'
On this day, OH MY GIRL's performed with their song 'Dun Dun Dance' and AESPA's with their new song 'Next Level.' The girl groups did well in their performances but failed to win the trophy. BTS, with their song 'Butter,' shines the most. AESPA achieved a meaningful result by setting a record of being nominated for the first place at the same time as their comeback. BTS won the trophy by recording an overwhelming difference from the two candidates in the social media score.
On the 'Inkigayo' broadcast this day, various k-pop idols performed. This includes GWSN, Rocket Punch, Seojin Park, Bling Bling, Everglow, AESPA, NCT DREAM, ENHYPEN, E'LAST U, OH MY GIRL, Woo!Ah!, WJSN The Black, ONEUS, TRI.BE, TO1, Fromis_9, PIXY, HOT ISSUE, and AQUINAS (Minsoo Kang).
Read More About: BTS Jin Holds The Most Comments Among Korean Singers On YouTube With His Song 'Abyss'
AESPA
,
aespa next level
,
BTS
,
bts butter
,
BTS News
,
BTS songs
,
BTS today
,
bts trending
,
BTS UPDATES
,
bts_butter
,
BTSTREND
,
butter
,
Group BTS
,
Kpop artists
,
KPOP BTS
,
Kpop news
,
Kpop trend
,
Kpop trending
,
KPop trending news
,
Kpop trending now
,
kpop trending update
,
Kpop_BTS
,
KPOPIDA
,
KPOPNEWS
,
oh my girl
,
oh my girl dundun dance
,
Trending
,
trending 2021
,
trending kpop
,
Trending Kpop news
,
trending kpop update
,
trending news